DO YOU HAVE GAMES FOR CHROMEBOOK?
YES. Yes, we do.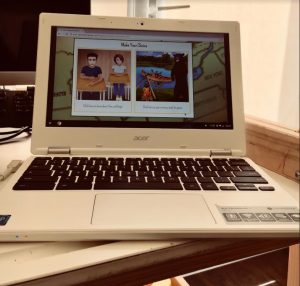 The following games by 7 Generation Games are Chromebook compatible and accessible.
MAKING CAMP [BILINGUAL] (Grades 3-4) -> Click here to buy!
Making Camp: Ojibwe and Making Camp: Bilingual cover the same content, but Making Camp: Bilingual can be played in English or Spanish.
In Making Camp, players practice multiplication and division skills while learning math problem-solving strategies. They'll also be introduced to Native American history. Earn points by solving math problems and answering social studies questions in the village-building simulation game. Recommended Grades 3-4.


Making Camp: Ojibwe can be accessed directly via the link on Chromebook – or if you have the Chromebooks that allow you to download Android apps, it can also be downloaded from the Google Play Store:  
https://play.google.com/store/apps/details?id=com.a7generationgames.camp.makingcamp&hl=en
FORGOTTEN TRAIL, PART 1 (Grades 5-6) Click here to buy! 
Forgotten Trail follows two teenagers who apply their knowledge of fractions, decimals, measurement and statistics to retrace the Ojibwe migration through the U.S. and Canada. We interweave in the cultural history and geography through stories and flashbacks. Recommended Grades 5-7.
Journey through the past to the present. Discover the importance of math, on everything from building to farming to business as you travel through time in your quest to get home to Iowa. Learn history and even a second language along the way.
What starts as a typical day in history class for Xitlali and José turns into a day nothing like any other. Find your homework. Get to school before the bell brings. And definitely stay away from that book your teacher told you not to touch! AzTech: The Story Begins teaches multistep problem solving, basic statistics and real world applications of math, while introduction to pre-Columbian Central American history. The game is fully bilingual (English/Spanish).
We are continuing to add to our growing line of games. Confirmed 2018 releases for Chromebook will include: 
Making Camp: Ojibwe Premium (which will have 3x as much content including a language arts module) for Chromebook
Making Camp: Lakota (Chromebook and iPad).