Want to give our games as a gift? Interested in donating games to a student or school in need? Great! It's super easy, and today we're going to make it even easier.
The very short version is go to our "Buy" page, pick the game you want and go to the purchase page.
DONATE: If you want to donate, choose the donate option and check out.  (If you have a site in mind for the donation, note that in the comments and/or email info@7generationgames.com.) Whether you donate an individual license, a classroom license or sponsor an entire school, we will make sure that your donation reaches those that need it most.
GIFT: If you want to gift, we recommend going through the purchase process and using your email/name information. You will receive an email saying "Thank you for your order" with an order number. You can then forward that email to the intended game recipient – we've even made a couple of festive video eCards you can include (here and here). We find this to be the best approach as it eliminates the email going to SPAM folders and your recipient sees you're the one who gave the game! Otherwise, you can cut out the middle man and just put your recipient as the contact name and email – and it will go straight to them. Please can include your name (and an optional) little note in the "Comments" box, so they know it's from you!
Want to see the process in action? We break it down below.
STEP 1: Visit our "Buy" page.
STEP 2: Decide which game you would like to give. (We suggest getting all of them!) You can read about our games on our Products page to help you decide. Once you have decided you can click on the games' picture to continue with your purchase. If you want to gift more than one game, you can choose the bundle option, which is three games for the price of two. For this example, we chose Fish Lake since it has a great update (officially) coming December 16th – but you can get it now!.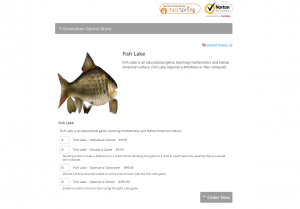 STEP 3: Once you are at the purchase page, simply put in the quantity of games you want to donate/buy and click on "Order Now."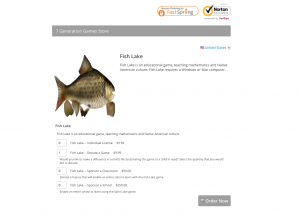 STEP 4:  On the next page, fill in your contact information (or your recipients' if you want us to send the email directly to them) and your billing address. Indicate what form of payment you will use and then click "Next." Depending on your method of payment, you will be prompted to insert your credit information on the next page, login to PayPal or Amazon to pay, or nothing if you are paying by wire transfer or check/money order.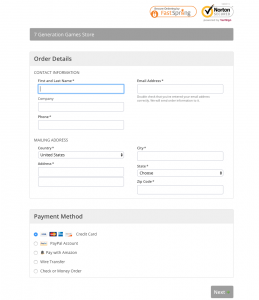 STEP 5:  Review your order, enter your payment information and you're done. After you have completed your order, you will receive an email with your order details.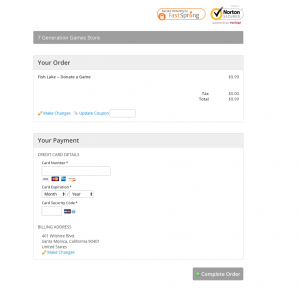 Thanks you so much for your business!
---
Looking for a great gift? Look no further, our Level Up Holiday Gift Box is here!