How did adding team in Chile lead to an explosion in productivity in the U.S. ? That doesn't even make any sense, does it? Listen and learn.
I came to Santiago as part of Start-up Chile, leaving our U.S. office with 2/3 of the co-founders. We spent a good bit of time on a Chilean game which, well let me just say, at the end of it that Maria had declared two developers and the game itself "Dead to me."
Despite these "failures" we had our best year ever! How did THAT happen?
We're up from 24 game versions across Windows, Mac, iOS, Chromebook and Android to 51. We had our best year ever in terms of development. Our users are up 41%. As I've said before, even though it may seem as if we only made a few hours of progress each day, over our whole team, those minutes and hours add up.
Lesson 1: Learn to tell false starts from failures
Although our first game did not come out the way we wanted, we hired a new Country Manager, Daniel Mondaca, and he had the idea for two augmented reality apps.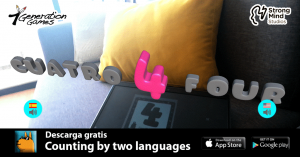 You can get, free,  Counting by Two Languages in the App Store or in Google Play , an app which he designed with Maria Burns Ortiz and Adekola (who left us after he finished graduate school in December. We are still sad.) It's our first and only app for children under age 8. It teaches counting in two languages. (Hence, the name.)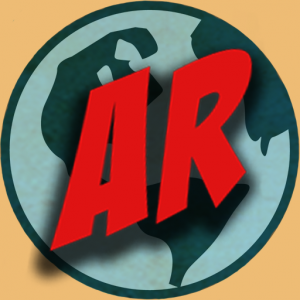 Math, the Universal Language AR was also done by Daniel, Maria and Adekola. You can also get it free in the app store and Google Play.
Seriously, I think these apps are cool and I'm an adult.
Lesson 2: Use Everything You Have
Maria Paz Jorquera, our Chief Marketing Officer in Chile worked with Daniel to cannibalize the parts of our failed game into a third game, available in Spanish in Google Play, Yaima y Manuel Rodriguez. If you know Spanish, you should totally check it out. It's free and cool.
Start-ups can't afford waste or redundancy. Gonzalo Serrano, one of our developers in the U.S., repurposed much of the code and graphics from our abandoned game into a new, super-cool game under development. Since we saved time on development and money on graphics, we were able to put those savings into other projects.
Lesson 3: Time Is Your Most Valuable Resource
When I came to Chile, we did not have any designated game testers in the office in the U.S. You can't have a game go into the app store, Google Play, Windows Store, etc. without testing it, so everyone pitched in. This mean that every day one of our developers, our project manager, or one of the co-founders was spending 2 hours a day testing games. When we were releasing a lot of new versions, this easily came out to 20-30 hours total each week. That's 3/4 of a full-time person.  More than that, though. If I'm working on a part of a game and I have to stop and do testing, it's going to take me a while to pick back up where I left off.
Daniel and Maria Paz (she's the one on the left), along with our intern, Kim (she's on the right), took up almost all of the testing responsibilities, giving our developers significantly more uninterrupted time to, well, develop.
With that extra time, we were able to complete Making Camp Lakota,  Fish Lake Beginnings , Making Camp Premium , two bilingual, augmented reality apps, a complete upgrade of AzTech: Meet the Maya and modify nine of our games to run on iPhones.
So, those of you who thought I was wasting my time coming to Chile, joke's on you. I think we have all learned a valuable lesson, here, that is:
Lesson 4: Listen to AnnMaria's Ideas