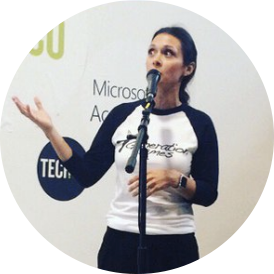 Maria Burns Ortiz
CHIEF EXECUTIVE OFFICER & CO-FOUNDER
maria@7generationgames.com
Maria Burns Ortiz is a co-founder and Chief Executive Officer for 7 Generation Games. Maria leads 7 Generation Games creative and narrative teams, taking ideas from concept to commercial product. In addition to running game design, Maria co-leads business development and non-technical staff (including marketing and sales and operations).
She was part of the team that secured $2.15 million in Small Business Innovation and Research grant funding from the U.S. Department of Agriculture, National Institutes of Health and National Science Foundation. She oversaw 7 Generation Games' three successful Kickstarter campaigns, bringing in over $90,000 in crowdfunding. And to date, Maria has successfully raised $500,000 in investor funding for 7 Generation Games.
Most recently, 7 Generation Games was the only small business selected by USDA for COVID Rapid Response funding in the area of education and workforce developing, leading to the Growing Math project, a multi-year initiative aimed at enabling 7 Generation Games to rapidly scale across six states.
Under her leadership, 7 Generation Games been awarded Minne Inno's edtech "Blazer Award"  (2021), recognized "Best Learning Games Artwork" at the Department of Education's ED Games Expo (2019), named one of the "Top 50 Apps for Kids" by Educents (2017), selected as one of Homeschool.com's "Top 100 Educational Websites" (2017), chosen as one of Tech.Co's Top 50 Startups of the Year (2016), selected for Tech Inclusion's Startup Showcase (2016) and accepted into BoomStartup's EdTech Accelerator cohort (2015). 7 Generation Games was the media and entertainment category pitch contest winner the 2017 Global Entrepreneurship Summit, co-host by the U.S. State Department and the Government of India, in Hyderabad, India. In 2018, 7 Generation Games was selected for Startup Chile – a Chilean government-backed tech initiative – receiving two rounds of CORFO (Chile's economic development agency) to establish Latin American operations.
An award-winning journalist and international best-selling author, Maria worked in media for a decade. In 2015, she co-authored "My Fight/Your Fight" with Ronda Rousey. The book was a bestseller in five countries, has been translated in nine languages (including Mongolian!), hit No. 5 on the NY Times nonfiction bestseller list and was named the U.K.'s "Sports Book of the Year" in 2016. Previously, she was the social media columnist at ESPN.com, covering the digital space as it pertained to sports and sports marketing. Throughout the course of her media career, she established a reputation an expert in the area of digital innovation. Since the summer of 2020, she has been teaching artist at Minneapolis' prestigious Loft Literary Center.
In 2021, she was named as one of Minneapolis-St. Paul Business Journal's 40 Under 40 and announced as one Forbes Next 1000.
Maria frequently presents on educational games, diversity in tech and women-led entrepreneurship. In 2016, she was an invited speaker on entrepreneurship at the White House's "United State of Women" summit. In 2017, the National Latina Business Women Association – Los Angeles presented her with its Rising/Emerging Star Award.
Prior to 7 Generation Games, her journalism work received numerous accolades. She was named the National Association of Hispanic Journalists' Emerging Journalist of the Year in 2007. In 2008, she was one of just 32 key influencers named to Newspapers in Education's "Face of the Future: Hispanics Who Will Influence the World." That same year, she was selected to participate in the Fulbright Commission's Berlin Capital Program.
She was recognized by El Planeta in 2013 as one of the 100 Massachusetts' Most Influential People for Hispanics.
She was an adjunct professor at Emerson College from 2011-2013. In addition to introductory journalism courses, she designed the curriculum for and taught "Interactive News," which examined innovative ways technology can be integrated in news gathering and reporting. She was twice a visiting lecturer at Tufts University on the subject of digital integration in the sports and media industries.
She also co-founded Evrybit, a mobile multimedia publishing app.
A graduate of New York University, Maria lives in Minneapolis with her husband and three young children.