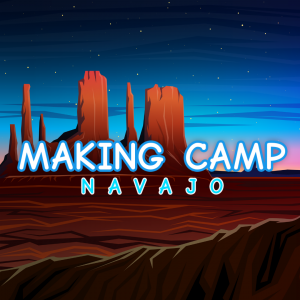 Our newest installment in the Making Camp series of games, Making Camp Navajo!
⭐Recommended for Grades 7-8
⭐Math: Ratio and Proportion
⭐History: Navajo
📚Making Camp Navajo – Standards
In the latest installment of our Making Camp series, players practice ratio and proportion as it relates to everything from making blue corn mush to planting corn to rug weaving. They'll also be introduced to Navajo history.
Customize your virtual hogan, a traditional dwelling, by earning money solving math problems and exploring social studies in this village-building simulation game.
Play the beta version of Making Camp Navajo, AVAILABLE NOW!

🐑
FEATURES
📌 Choose from several hands-on activities where problems are randomly generated, so you can play them again and again.
📌 Agriculture is a key part of Diné livelihood. Learn how this pastoral, semi-nomadic tribe herded sheep and used them as a valuable resource in the arid climate of the Southwest. Students will also learn what crops the Diné people planted.
📌 Learn math, history and culture through the lens of Rose Nez, a Diné middle school student who keeps a photo album of her relatives.
📌 All ratios and proportions modules are aligned to Common Core State Standards for 7th and 8th grade, including state and national math standards.
📌 Design your own rug using the rug designer and learn about some historical rug designs.
🧶Customize a virtual hogan–a traditional Diné home–by earning points solving math problems, learn Diné history, and explore rug weaving in this cross-curricular, standards- aligned math game.
Stay tuned for the bilingual version!