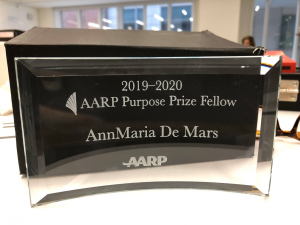 Most people probably don't envision a 61-year-old Latina grandmother of six when they hear the term "tech entrepreneur." Of course, those people don't know 7 Generation Games president and co-founder AnnMaria De Mars, who is a driving force behind our incredible games and reshaping the narrative about what it means to launch a startup in your "golden years."
On Tuesday night, AnnMaria was recognized in Washington, D.C., as one of nine AARP Purpose Prize fellows, recognized for "using their life experience to build a better future for us all." She was selected out of more than 1,400 applicants.
AnnMaria was motivated by her own experiences, as AARP summarized:
AnnMaria De Mars founded her tech startup to create educational software to teach math to disadvantaged children traditionally ignored by game developers. AnnMaria's math ability as a child helped her to get an education that changed her life, so she started 7 Generation Games to help students experience the same opportunity she had.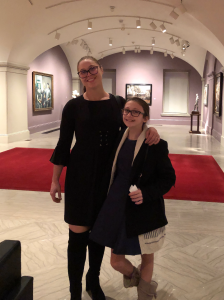 In addition to working to improve student outcomes in underserved communities and creating affordable software that is accessible anywhere, AnnMaria is disrupting the tech industry's perception of what a typical "coder" is – she's half of 7 Generation Games original development team (and would still prefer to be coding more than anything else). [As one short-lived tech person, once learned the hard way, when suggesting maybe he should speak to "our tech guy" – she is "our tech guy". (To be clear, his tenure with us was short-lived, as far as we know he's still alive somewhere.)]
The award ceremony was held at the National Portrait Gallery, and AnnMaria was represented by three generations of 7 Generation Games – our CTO, Dennis De Mars (yes, Dennis even attended, so you know it was a big deal!); one of our early investors and alpha testers, Ronda Rousey; and our CEO-in-training and voiceover artist (if you've played Spirit Lake, you may recognize her as the crying baby in the tipi), Eva Ortiz.
Congratulations to all of the AARP Purpose Prize winners and fellows, who are proving that – as the award motto states – "Making a Difference Is Ageless." It's a valuable reminder that it's never too late to start a company or take that next step in making the world better. And let's all give it up to grandmas who code – starting with this one: