We are thrilled to announce that 7 Generation Games was selected as one of NewSchools Venture Fund's 2022 Learning Solutions grantees! We're joining a national cohort of organizations receiving funding and support from NewSchools Venture Fund to create or expand on innovative ways to make literacy instruction more effective for historically underserved student groups.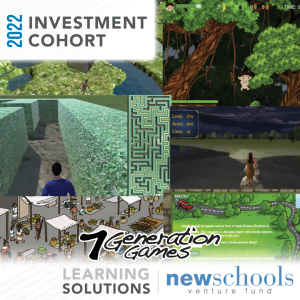 The $250,000 non-dilutive investment from NewSchools will help 7 Generation Games in developing its 7 Gen Blocks Edu platform, which enables educators to create customized bilingual game-based digital learning tools and assessments. The aim of 7 Gen Blocks Edu is to increase availability of and access to effective, culturally responsive literacy learning experiences in multiple languages.
NewSchools funds team of innovators with bold ideas to reimagine learning, including innovative learning solutions to ensure that existing schools and school systems can access content and tools that students need to build a strong foundation in literacy and whole school models that bring together different elements of schooling to create a more seamless and cohesive experience for students and educators.
"Being a part of NewSchools' Learning Solutions cohort is going to be instrumental in our ability to more rapidly scale our impact," 7 Generation Games CEO Maria Burns Ortiz said. "In gaming terms, this NSVF funding and the support provides us a huge 'power-up.'"
In addition to the funding, NewSchools will provide management assistance, including offering access to experts and a peer community of organizations developing literacy solutions.
About 7 Generation Games
7 Generation Games makes educational video games and the tools to develop them. Since our founding, 7 Generation Games has been focused on building narrative and gaming experiences that close equity gaps and improve learning outcomes. Now, through 7 Gen Blocks and 7 Gen Blocks Edu, we are working to adapt existing code libraries (originally used to develop proprietary games) into modularized, easily editable code blocks that publishers and educators can customize through a digital platform. This will make it possible for us to both scale our organization and our impact by putting more power into the hands of educators and enabling them to bring their content to life in engaging and culturally responsive ways.
About NewSchools  
NewSchools Venture Fund is a national nonprofit that supports and invests in promising teams of educators and innovators who want to reimagine learning. NewSchools helps teams accomplish their missions to achieve outstanding results for the schools, students and educators they serve. NewSchools is committed to helping students graduate high school prepared and inspired to achieve their most ambitious dreams and plans.Through its investing, management assistance, network building, and thought leadership, NewSchools helps to reimagine PreK-12 education.