7 Generation Games won passes to E3 (the annual Electronic Entertainment Expo – which draws approximately 70,000 attendees each year!) for having the "Best Learning Games Artwork" at the Department of Education's EDGames Expo. Thanks to the ESA and IES for making our developers' days – giving them a chance to get out of the office and see the newest, coolest and upcoming-est things in video gaming. We asked them to write about their experience. 7 Generation Games developer Gonzalo Serrano chronicles his first day.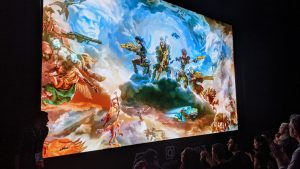 Heading into E3, there was one exhibit that I wanted to see above all others: Borderlands 3. I have played all the games leading up to this release. There was a 90-minute wait line to play the demo. But while waiting, before we got a chance to play, we were shown a short video about the changes we could expect to see. Even though it was an hour-and-a-half wait, I was pleased to see we weren't just rushed through when we got to play. I was able to play 20 minutes and see the changes to the previous games.
The increased focus on the multiplayer aspects of the game were interesting. They were adding multiple features that would make social interactions better. At the end of my play test, I got a gift bag for attending which came with some really cool poster art as well as a mask of one of the non player characters.
Borderlands 3 along with Cyberpunk 2077 were probably the most anticipated exhibits, but there were multiple large displays. I did not get to go to the Cyberpunk exhibit, but I got to see several other developer exhibits.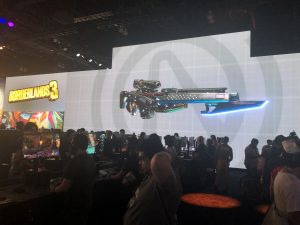 I attended the Star Wars: The Skywalker Saga show, which was a small panel on what the game would be like. The team that worked on the game used real-life Lego models in the game and said they would allow players to view the models brick-by-brick in case they wanted to build what they saw. The game would cover the story of all nine Star Wars movies and would play as a sandbox game where players could do the story or just build things with Lego bricks. Lego here seems to be prioritizing player creativity and giving them freedom to do whatever they want with their Legos.
Another smaller exhibit I attended was The Elder Scrolls: Blades, which is a mobile game. It is available on the Nintendo Switch as well as mobile devices. While the visuals were great, I had an issue with the gameplay. The controls for movement felt fine, but the combat was what I had an issue with. I couldn't exit combat if I didn't want to fight something. Once something engaged in combat, I was stuck until it was over. The combat didn't feel fluid, and there was only so much you could do that it felt scripted. The combat makes you think it will be real-time, but the abilities you have make it feel like it is turn-based instead. The game just made me think that mobile controls and users interface are still something developers have to constantly be improving, especially since mobile games are getting more of a spotlight.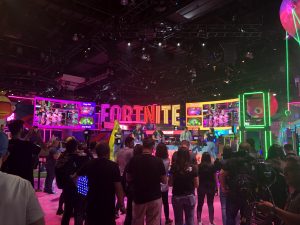 I also got to visit a small exhibit for the National Videogame Museum, which had several arcade machines on display.
Fortnite had a gigantic exhibit where they had attendees participating in events. There were several giant statues and figures for different games. Monster Hunter had a giant ice dragon as well as a Palico (cat-like creatures) statue. There was race game that had a giant Gravedigger monster truck on display. There was cosplay for a lot of games, and people were taking pictures everywhere.
Overall, it was an enjoyable experience and I am glad I got to attend.