We are Anishinaabe, the original people, and we are here to stay. Value us and our contributions to the world we live in today.

Annette Mennem
Turtle Mountain Band of Chippewa Indians
Minot State University
When invited to write a blog about Native American Heritage Month (NAHM), I asked myself, "What does NAHM mean to ME?" It was a tough question to answer, and I rewrote this several times.
First let me introduce myself. My name is Annette Mennem a member of the Turtle Mountain Band of Chippewa Indians. I am Ojibwe and Anishinaabe. For the last 24 years I've lived in Minot North Dakota. During these years, I've attended Minot State University (MSU) and earned a Bachelor of Science Degree in Education and a Master of Science degree in Management. I've worked as an elementary education teacher (on and off tribal nations), taught, was director at the Quentin N. Burdick Job Corps center and for the last 10 years, served as the Native American Center Director at MSU. This is where I come from and where I am now. I've been taught these two don't exist without the other.
Growing up on the TMBCI reservation, the month of November meant learning about "Indians" in history and "celebrating Thanksgiving." This came from the school district and from living in a home with survivors—surviving the Termination Act, Relocation Act, boarding schools and the missionary period. My people were born in a time when they were not seen as citizens of the United States. In school we had lessons that had us picking a tribe in the US, finding out where they lived, what foods they ate, what they wore, did they dance and have music, what did they look like. We were kids living on the reservation learning about ourselves, like we were part of history. This still happens today and worse, we become someone's costumes at Halloween or are the punch line of jokes. It took me leaving the reservation to learn about my Ojibwe and Métis heritage.
That journey continues yet today. To do Native American Heritage month right, teach about us in the present. We are still here and celebrate the traditions (not just history), more importantly highlight the Indigenous people that are doing great things for communities everywhere.
My first writing contained the words "stewards of the land." Traditionally, we know to take care of mother earth, Aki, because she has taken care of us. However, the correct way to say this is we "belong" to the land, and we relate to her because our ancestors have become part of her. Our relationship with mother earth, Aki, goes back to our ancestors. Those ways taught to us still exist today but aren't always considered viable.
Take California wildfires as an example. The tribes in that state for years did controlled burns to clear potential fire hazards—then the state banned this practice and had no interest learning the tradition. Those tribes applied for grants for fire control and were denied, then asked for equipment but were told all equipment was now being used for fire control and not prevention. This is only one state with one example. There no longer a fire SEASON, it's just FIRE.
There is so much more that can be said about this topic, and it is good to see that the conversation continues. What I'd like to leave you with is my answer to what does Native American Heritage month mean to me: It means this one month we highlight what Indigenous do every day of our lives, it took 4000+ ancestors for me to be here where I am today. My responsibility as an indigenous person is to be the best representation of who my ancestors were and who my relations are.
We are Anishinaabe, the original people, and we are here to stay. Value us and our contributions to the world we live in today.
Miigwech for reading my blog,
Annette Mennem, MsM
Native American Center Director
Native American Cultural Awareness Club Advisor
Minot State University, ND

---
Ojibwe Voices in Making Camp Premium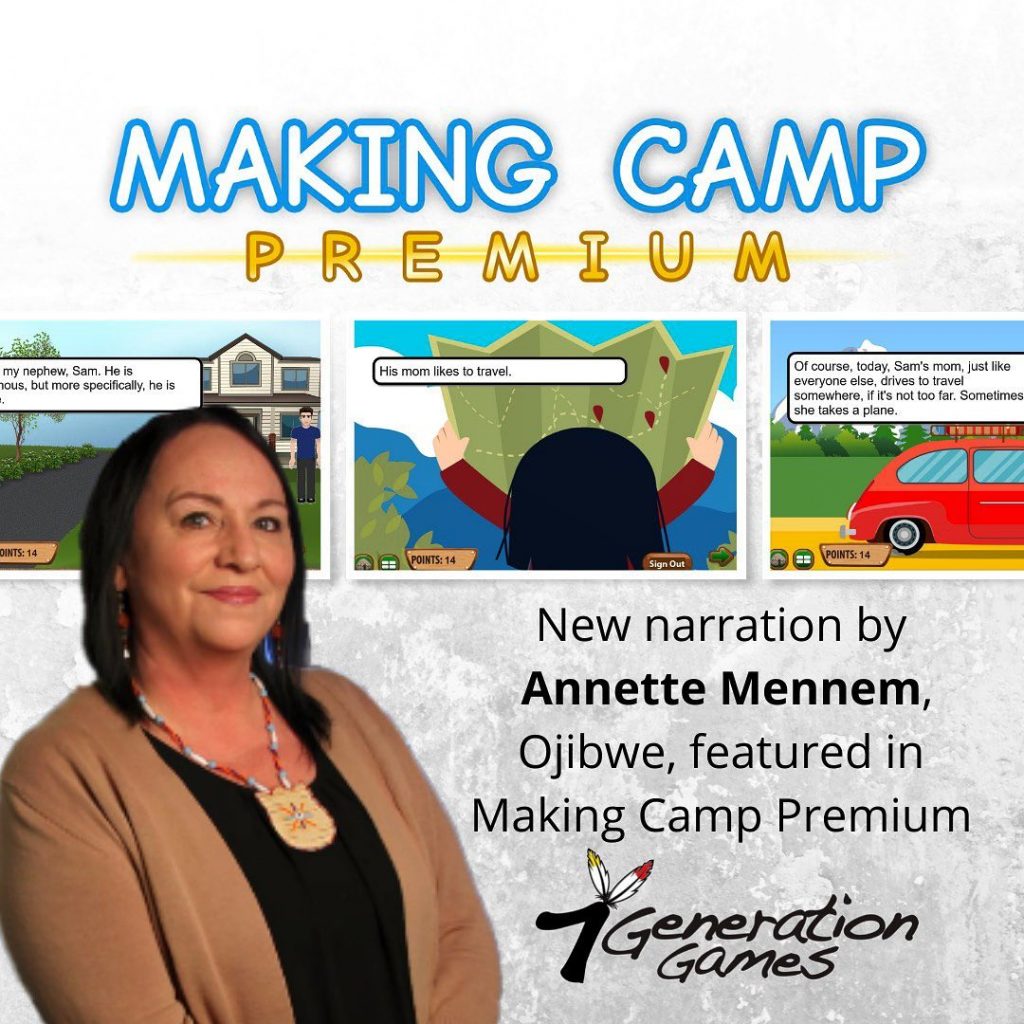 Annette Minnem contributed to voiceovers in Making Camp Premium, our newly revamped video game teaching multiplication, division, Ojibwe history and social studies.
Making Camp Premium can now be accessed here for free. Click the picture or link to play this web game (ages 7 and up). Learn more about the Ojibwe tribal community and make connections with the past and present.