We founded 7 Generation Games seven years ago to meet a need we saw in our communities – the communities where we lived and the communities where we worked, communities that were underserved and overlooked. We saw that despite radical advances in technology over the last two decades, the equity gap in education continued to grow, and thought there has to be a better way. That's why we set out to build 7 Generation Games.
Along the way, as we've been building our company and our growing line of games, we've also built something else pretty incredible – and that is an amazing community (including you!) that has supported us along the way. This is why we wanted you to be the first to know about our newest launch – this time, it's not a game, but a community round.
Today, we launch our WeFunder campaign, making it possible for you to join us as an investor in 7 Generation Games. And as part of our community, you're getting "Friends Invest First" access, which includes an opportunity to invest with early bird terms.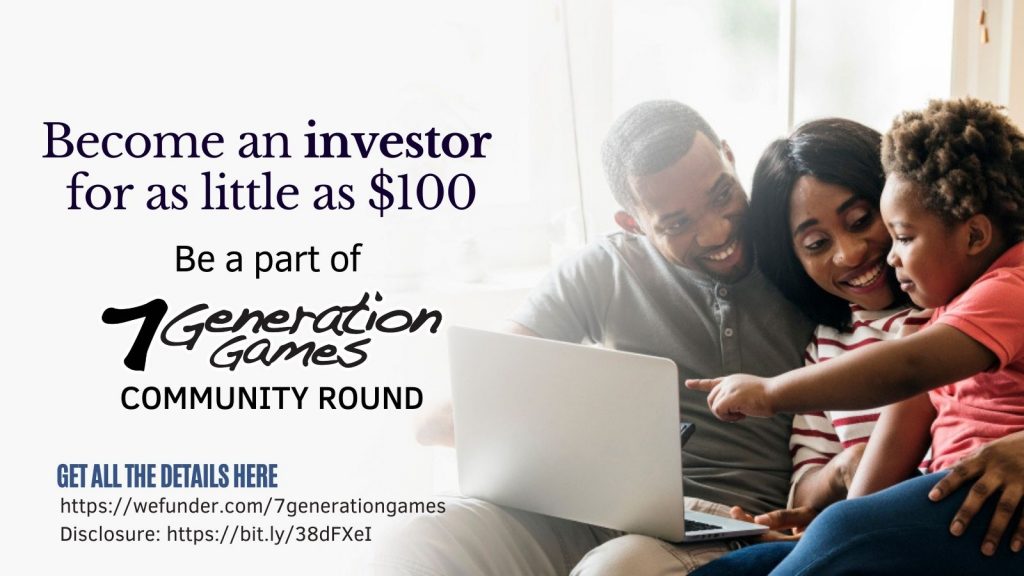 If you missed my previous post about community rounds (you can check it out here), but in short, a community round is a way of company fundraising that makes it possible for anyone to invest for as little as $100.
Our goal at 7 Generation Games has always been to remove barriers to access. Barriers to access to educational technology. Barriers to access to culturally reflective curriculum. Barriers to access to careers in the tech industry. And now through our WeFunder campaign, we are able to remove some of the barriers to access to investing in an early stage tech company.
Now, just like with any investment, I can't make any promises that you will get a return, but I can promise that we are doing – and will continue to do – everything we can to make 7 Generation Games a success. Certainly, if you have been following us for a while, you know that success is not going to be overnight. But we truly believe in the work we are doing, and it is our community of supporters that has helped us, inspired us and motivated us during the ups and downs of this entrepreneurial journey. Nearly 600 of you backed us on Kickstarter. Thousands of you have supported us in getting our games into the hands of children, either through purchasing licenses for classrooms, telling teachers or friends, and downloading them for your own children.
It is in part because of you that we have seen our users grow almost 10x over the last four years. It is in part because of you that we were able to be positioned to best serve the needs of students and schools during the COVID-19 pandemic, when education as we know it was upended in ways we could have never imagined, and we were able to provide access to 7 Generation Games at no cost to classrooms during this time. It is in part because of you that we have still seen our revenue double in the last two years.
When I was approached by Wharton Impact Venture Associates out of the University of Pennsylvania and asked if we would ever consider doing a community round to raise funds for 7 Generation Games, the truth was that I hadn't. But as I started to explore this possibility, it just felt right. At 7 Generation Games, we have always believed that you can do good in the world and do well financially. We believe that what is good for communities can also be good for investors' portfolios. We have been fortunate to have investors to date who share this vision. As we embark on this next stage of our growth and evolution as a company, we are even more excited to now invite you to join in as one of them.
Testing the waters legal disclosure: We are 'testing the waters' to gauge investor interest in an offering under Regulation Crowdfunding. No money or other consideration is being solicited. If sent, it will not be accepted. No offer to buy securities will be accepted. No part of the purchase price will be received until a Form C is filed and only through Wefunder's platform. Any indication of interest involves no obligation or commitment of any kind.