It's been a very productive week, and it's only Thursday. Yesterday, we had our Ed Tech Demo Day at Co-Work Latam in Monjitas in Santiago and as you can see, it was standing room only.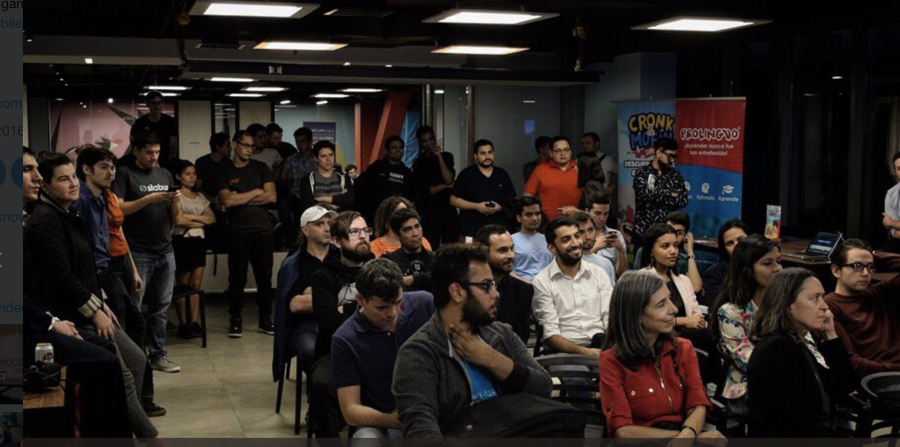 Seven of the eight educational technology companies from Start-up Chile had tables where you could see demos of everything from a virtual reality lab with Oculus Rift to mobile apps to teach about engineering (a factory in your pocket) to, of course, games that teach math, history and English all as part of a suite of educational services (that's us!)
It was a great event but being the first time we had ever done anything like this, there was a lot of last-minute realizations like ,
"Oh, wait! We should have a sound system, let's rent one – NOW!"
or
"There should probably be a Master of Ceremonies. Coto, you speak perfect Spanish, what are you doing say, in the next 3 hours?"
Did I mention that the event was in Spanish which is definitely my second language?
Or, that I had to give a lecture at the University of Chile an hour before the event started? Speaking of which, if you were to speak at the University of Chile, you'd take the metro to the University of Chile station, right? It's not just me? Because it turns out that the U of C Business school is actually nowhere near that stop, and after walking around for an hour, taking the metro and taking a taxi I ended up at the lecture hall 9 minutes before class was supposed to start.
So… since February, I have moved to Chile, incorporated a new company, hired 7 people, flown back to the U.S. twice, taught a course in multivariate statistics, given a conference presentation, given pitches (in Spanish) at two events, done a half-hour live webinar (in Spanish) on learning through play,  helped organize an ed tech demo day, drafted the game design of our latest game and worked on the content for our new website in Spanish.
Now that almost all of that is done, I am catching up on all of the meetings I put off to accomplish that list, with the result that I had 50 minutes free today between meetings – and that only happened because one meeting got rescheduled, otherwise, I would have had negative nine minutes.
It's been a good run, though. I've gotten a lot done and worked with the most awesome people. Having sprinted through a lot of deadlines, now, it's good to finally feel as if I am going to be able to stop and catch my breath by the weekend.
I may even have less than 1,500 unread emails by Monday.