Maria Burns Ortiz (our CEO) thinks the term "eating your own dog food" sounds disgusting, so I try to use it as often as possible. Besides, what does a vegetarian know about taste? She also thinks I shouldn't make comments that could offend significant numbers of potential users, say, vegetarians.
Despite my lack of social skills, Maria loves me because our new product is game-changing
If you haven't seen me lately it's because I have been hunkered down creating 7 Gen Blocks, our low-code solution that allows anyone with minimal development experience to rapidly create ready-to-play educational games. (There's also a no code product that other people are working on. Top men. No, seriously.)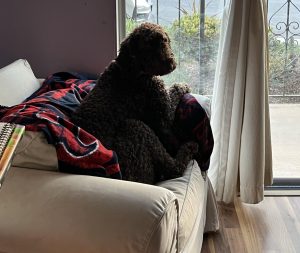 Frank Zappa, the startup dog, also likes dog food
Here is where eating our own dog food comes in. I have been using 7 Gen Blocks to create new games and it is almost everything I wished it would be. Since Diana, Dennis and I are working on it, anything that isn't what I wished for gets added pretty quickly.
Here is how you know when you have a winner – when you can't imagine not using it if you had a choice
You know those sticky notes? Many, many years ago, I was married to someone who worked for 3M. At the time, they would have products they were working on laying around for people who worked in the company to use. I worked for a different large company and my (now ex-) husband had brought home some new thing, these little yellow pads that you could pull off a sheet and it stuck on paper. I brought a few to work and other people in my office saw me using them on documents instead of paper clips and would stop by my desk and ask if I had any of those things and where could they get them.
The first time I used WordPress or Movable Type, it was similar, although blogging software, not being as simple as a sticky note, got better and better over the years until I can't imagine going back to creating web pages writing every bit of HTML and CSS, then uploading the page to the server.
7 Gen Blocks is like that. Every time I use it, I think,
"Damn! This is great! I can get so much more done, so much faster, and actually have time to think about design, and content and making the game cooler."
This is how to keep your job even when you have the maturity and social skills of a toddler. Make great stuff.
If you want to join our private beta, you can fill out this form. We have a few organizations that are using the blocks now, and we are adding a couple more each month, doing a phased rollout before our public beta early next year.
I can't wait for everyone to taste our dog food.