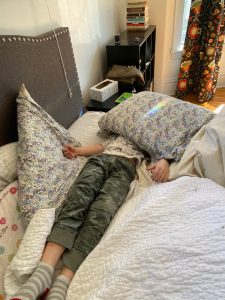 We get it, right now you are just trying to get that last 5% of the school year done without dying of exhaustion.
Maybe it was in that moment a few months ago when you still thought you were going to get caught up this year (ha, ha, ha) that you agreed to teach summer school. Perhaps the principal asked you last week with promises of extra pay and tearing at your heart strings about children needed positive summer activities and while your brain screamed, "No! You need sleep!" somehow you found your mouth saying, "Yes."

– Or is that just me?
I will save you time right now and let you know that the lessons and games in Growing Math target standards in grades 3 through 8, so if you are teaching Pre-K or high school seniors, I'm afraid this is not for you.
Now that you have summer school staring you in the face a few weeks from now, here are 5 ways the Growing Math Project can help
Click a link to jump to what you need most, or just scroll down to read them all.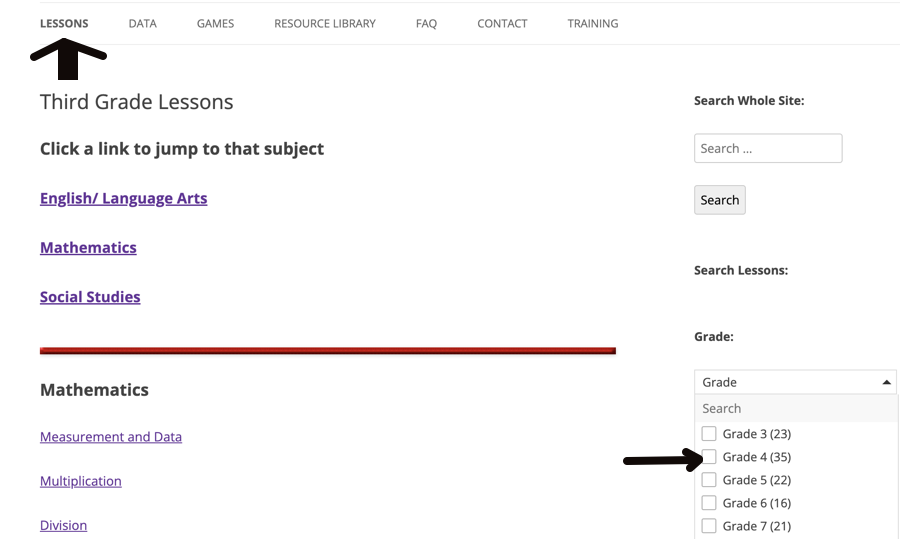 Self-paced training
Sign up here for the self-paced online training that will help find lessons, accessing software for your grade/subject and generally anticipate any problems that might arise – because we know how frustrating it is to have a plan and then realize it isn't compatible with your device or takes too long or any of 100 other issues. Training is free, can be done at your own pace (hence the name) and gives you access to all of the games we provide, lesson plans and student performance data. You can literally do it in 15 minute blocks. This training is funded through USDA. Also if you complete it and provide us feedback you will get $150 if you live in one of the six target states (AZ, MN, ND, NM, OR, SD) .
Find Supplemental Lessons
Find lessons on the Growing Math site that are both engaging and standards-aligned, with all the resources you need included. As you'll learn in the training, you select your grade level under SEARCH LESSONS and click the SUBMIT button at the bottom to see all the lessons. Or, as shown above, you can click on LESSONS at the top menu, select your grade and search within a specific subject area, which is organized by standards. You'll learn more complex searches in the training. You'll also learn that each lesson comes with everything you need, whether it be a Slides Presentation, assessment or game.
Games
Get educational games with standards-aligned content that your students can play in class or at home for remediation, reinforcing a concept or a reward for getting their work done early. (We mean real standards like "Represent fractions on a number line diagram") There are eight available for Chromebook that require no download and a ninth that can be installed as an Android app. We have 10 iPad games. You can download many free games and buy others here or, if you take the Growing Math training you can get access to all of our games for free as well as data reports. Yes, we also have Android games if you have Android tablets. We also have games installable on Windows or Mac computers. We recommend letting your IT department know ASAP if you need them to install games, as they'll probably only have a short time between the end of the school year and the start of summer school to install new apps.
For a New Course
For an engaging course that's not just a rehash of the school year, consider making an entire summer school course of the Growing Math lessons. You'll find cross-curricular lessons that combine mathematics, social studies, agriculture and English language arts that have been written by experienced classroom teachers. Most incorporate games as well as videos, class discussions, presentations and/ or written assignments.
For Diverse Perspectives
To include more diverse perspectives in your classroom, from Latino history to Dakota culture, check out the lessons on the Growing Math site. Maybe you agree with your state requirements to teach about the Indigenous peoples of your state or you think students would relate better to material in their own language or about their Latino heritage. How the heck are you going to find the time to create those lessons, though, and where are you going to find the time to teach new material on top of the standards you are already required to teach? The Growing Math site has lessons integrated Ojibwe, Lakota, Dakota, Navajo and Latino history and culture with mathematics and language arts. (Really, you will be glad if you do the self-paced training first, it will answer these questions, save you time and get you access to all the games.)