Happy Friday everyone! It's the end of the week and you know what that means…it's time for the Freebie Friday! Today's freebie comes to you from our game Fish Lake. The freebie is our powerpoint and pdf on "Mixed Form To Fraction Form." This resource introduces mixed form and fraction form, teaches you how to go from mixed form to fraction form, and even provides an example. You can download the powerpoint of pdf below:
Mixed From To Fraction Form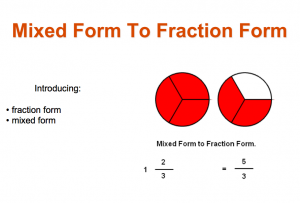 Mixed Form To Fraction Form Powerpoint
Mixed Form To Fraction Form PDF
This resource is a great complement to our video titled "Mixed Form To Fraction Form" and great to use in the classroom or at home. We also offer plenty of various resources on our Teacher Resources page for our other games such as activities, clip art, vetted links, and videos. You're always welcome to visit our Teacher Resources page and browse what we have to offer.
Finally, happy Veterans Day and make sure you come back next week for another Freebie Friday!
---