Happy Freebie Friday!
This week in our new blog series, "Parenting Like I Know What I'm Doing", our CEO Maria Burns Ortiz discussed how a parent can find sanity when their children are on Spring Break.
Trying to find new activities or ways to entertain and educate your kids at home is tough, especially if you're a working parent that has no babysitting options. With that in mind we want to remind you of our FREE resource site, Camp Don't Get Dumb Over Summer, aimed at keeping kids learning and challenged through fun, educational games. We have spotlighted this site in the past, which is a great educational resource, offering FREE games, videos and activities with an emphasis on math and history.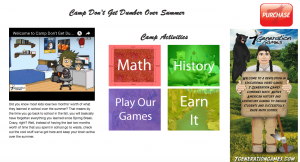 The resource site is aimed at both kids (grades 3-6) and teens (grades 7-12), with the content designed to keep math skills up and students entertained.
If they're looking for more of a challenge, our games can still be purchased through our site.
Don't spend your Spring Break freaking out or stressed. Enjoy this free game and resources from the team at 7 Generation Games!