Yesterday we had the honor of giving the inside scoop of what we do at 7 Generation Games. Our guests from New Earth consisted of a group of teens and several staff. What better way to begin a presentation than with food? And so the meeting began with pizza and conversations on what these students hope to achieve in the future. To my surprise, many were interested in animation, art, and gaming. I was expecting to have some interested in the "other" section which consists of the business side. However that wasn't the case.
These teens were eager to learn what it takes to build a game and in the long run how a gaming company works. They learned that our company as a whole is unique and different in its own ways.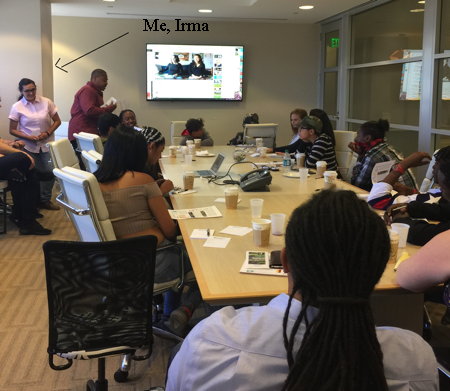 AnnMaria shared,
"Wouldn't it be cool to play Zelda and at the end of  level 20 you are ready for Algebra? That's what we do here!"
Our games teach math and they work! They also teach Native American and indigenous history. Maria discussed the dedication, persistence, and patience that is necessary have this company functioning. She expressed how there is much more to an employer than their job description. The ability to work in a team, be committed, and collaborate is what continues 7 Generation Games. After the explanation of the basics of the company, each group of staff members explained their part. The developers shared AR (Augmented Reality) and VR(Virtual Reality) which caught everyone's attention. Even the adults were intrigued! One second there was a samurai on the paper and then a kitty.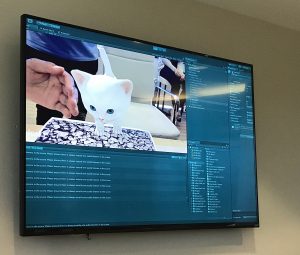 Jose even got to show how a city can be projected on this piece of paper which can be describe as a map for data points for the computer to project a picture.
They shared how much technology has changed and how it can be used to help teachers in the classroom.
Jose and Gonzalo explained their goals of using this technology in the following years to help students entertained in the classroom while learning. Who knows, perhaps in the near future 7 Generation Games will have a VR game that lets you feel like you're the person hunting buffalo and helping your tribe. But that's in the future and right now, our games do offer that! You should check them out!
Oh and on the pizza question- it took 12 boxes of pizza along with 4 salads to satisfy a group of teens. We are glad they chose the salad option too.
Want to know more on our day with our Earth Day guests? Tune in tomorrow to read the rest!