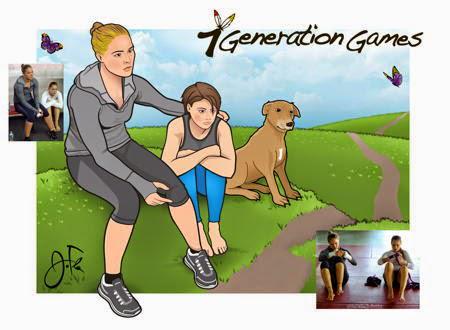 I was kind of amused when, in a meeting last week, someone asked Maria,
"How did you get Ronda Rousey to play your games?"
When she answered,
I just told her to come on over to our mom's house.
There is actually a little more to it than that. In fact, Ronda has been into games since she was a kid. If you checked out her Reddit AMA (ask me anything, for the non-Reddit crowd), you'd have seen that much of it was about Pokemon.
The dog in Forgotten Trail came about when Ronda insisted I come over to her house one evening while she played World of Warcraft while she pointed out features she thought made it a successful game. (Fortunately, earning a pet is not a copyrighted idea.)
If you'd ever met her, you've probably guessed that Ronda doesn't exactly pine for sitting in conference rooms, but she does sit in on our game design meetings every few months. In a pretty crazy development, the last meeting she was in also had best-selling author Derek Landy dropping in via Facetime. How crazy is that?
Because she plays more games than anyone in our family, Ronda is our alpha tester in more ways than one. Forgotten Trail has levels of play that are 'easy', 'medium' and 'hard'. Sometimes our developers make the hard level so hard that no one in the office can win it except the person who made it – which is kind of cheating since they know in advance where the pits are. At that point, we call Ronda in. If she can pass a level, we know it is at least possible.
Forgotten Trail will be out in beta version at the end of September. Sorry, the sneak peek demos were only for our Kickstarter backers, but you can check out demo versions of Fish Lake and Spirit Lake here.