One of the hardest things to do in creating a math game is to come up with problems that relate at all to student interests. Textbook publishers try, and so do we. You see a lot of math problems that include baseball statistics or buying CDs. Of course, then no one buys CDs any more and the books are out of date.
We have two needs in what we are doing now. One is creating more problems that relate to the every day lives of rural communities. The nicest early Christmas present that I received so far was from a lovely woman who said she didn't have a lot of money to sponsor games for kids so she decided to donate some math problems. You can read one of them below.
She even sent pictures of her cows to go along with the problems! How cool is that? If you have any ideas for math problems, I would love, love, love to hear from you.
Please post them in the comments below.

I have helped my father for five years hay and cube his cattle. My sister has helped on the farm all through the year.
Our hay season starts in the first week of October, and lasts through the winter. Where we live, spring usually begins in March. We herd the cows into a feeding pasture, and hay and cube them in troughs until the first week of March. We turn the cows out to graze until the next October.
How much more time has my sister worked than me?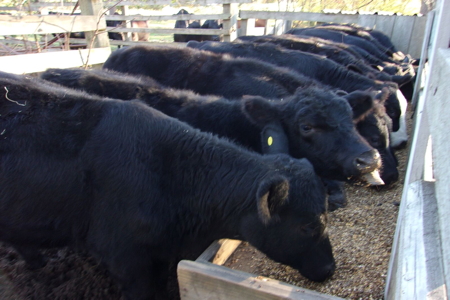 First, I figure out how many months a season is.
1 season = six months.
Second, I multiply by the number of years 6 x 5 = 30 months
Third, I divide by the number of months in a year. 30/ 12 = 2 ½ years
Fourth, I subtract how much I have worked from how much my sister has worked. 5 – 2 ½ = 2 ½
My sister has worked 2 ½ years more than me.
What if we are dividing up the money we made from the cattle? We could divide how much she worked , 5/ 2 ½ and we would find that she worked two times as much as me so she should get twice as much money.
An even easier way to solve this would be to stop at step 1. How would you do that? You could say that I worked six months each year and there are 12 months in a year, so 12/6 = 2. She worked twice as much as me.