Coming soon!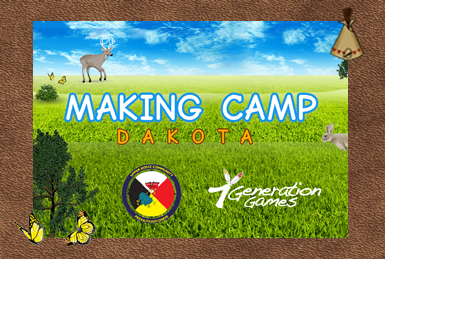 Learn how the Dakota lived. Experience the Dakota language. Improve math skills.

In Making Camp Dakota, players practice multiplication and division skills. They'll also be introduced to Dakota history and culture. Earn points by solving math problems and answering social studies questions in the village-building simulation game as you earn items to customize your tipi.
Created with the Upper Sioux Community, Making Camp Dakota is the FIRST fully English/Dakota bilingual, cross-curricular math video game.  The language of instruction is controlled by the player on every screen within the game, including text, audio, and video content. It can be played in English, Dakota or flipping between the two. 
Whether you are a Dakota speaker, a Dakota language learner or hearing Dakota for the very first time, Making Camp Dakota has something for you!
Recommended Grades 4- 5
Math: Division
History: Dakota, Plains Indians
In Dakota and English