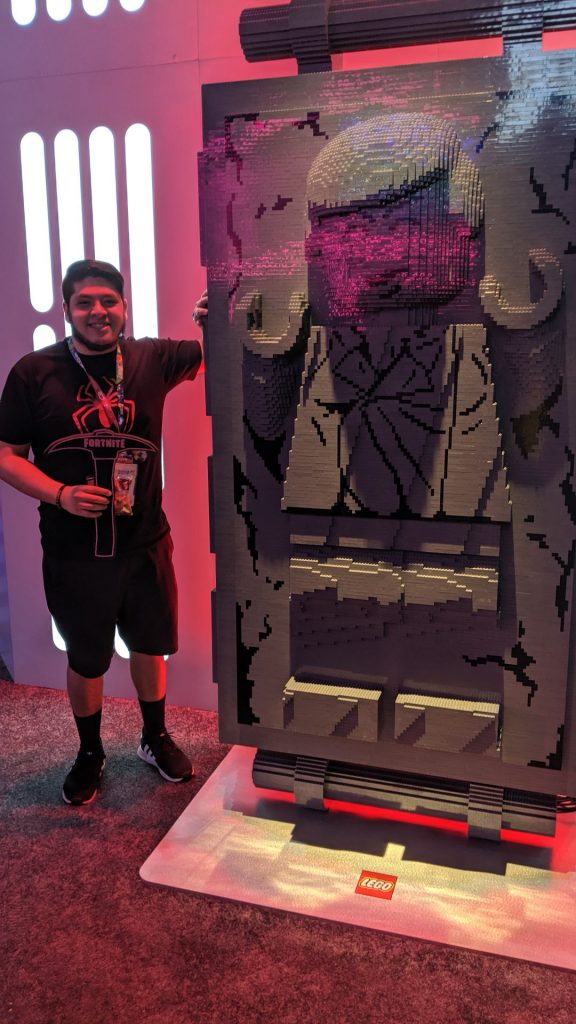 As a gamer, attending E3 was a thrilling and exciting experience! The moment I received my badge (which looked awesome by the way) the inner nerd/gamer in me immediately wanted to jump up and down in excitement.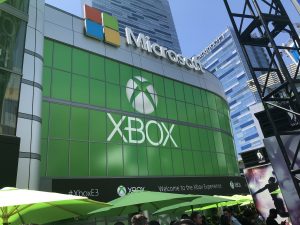 The scenery of E3 made the experience especially memorable. The highly detailed posters, demo stations and use of colorful lights brought out a unique atmosphere for each gaming area. One of my favorite areas was visiting the Microsoft Theater. After waiting an hour in line to get in the vicinity, we were first presented with the Microsoft store. However, after checking out the store for a little bit, I noticed a fairly wide door that led to a giant room. It was a giant theater, with giant screens to the left and right with a bunch of Xbox logos everywhere. The combination of green and white lights as well as the demo stations all gathered towards the front of the theater made it picture worthy. Not only did I appreciate the scenery at the Microsoft Theater, I was ecstatic to try out Halo Reach on PC and Gears of War 5 for Xbox One. As a big, long-time Halo fan/FPS enthusiast, I had to try out Halo Reach on PC! Although Halo Reach wasn't a new title, being able to play test this game on PC was amazing. Personally it was a funny experience for me because I'm not used to playing games on PC (more of a console guy myself) but hey, first time for everything right?
I got the pleasure of meeting employees from 343 studios (company that owns the Halo franchise.) to talk about their future development in Halo and their goals of distributing Halo Reach (or Halo in general) on PC. These conversations were very intriguing as they were able to talk about the process in which they test their games and day-to-day basis working at 343 studios.
Another game I was excited to play was Gears of War 5. Not only do I enjoy the story telling for this game, I enjoy the brutal/harsh nature of Gears of War. Thus, I was happy to know that Gears of War 5 stayed true to their 3rd person shooting mechanics and satisfying gameplay.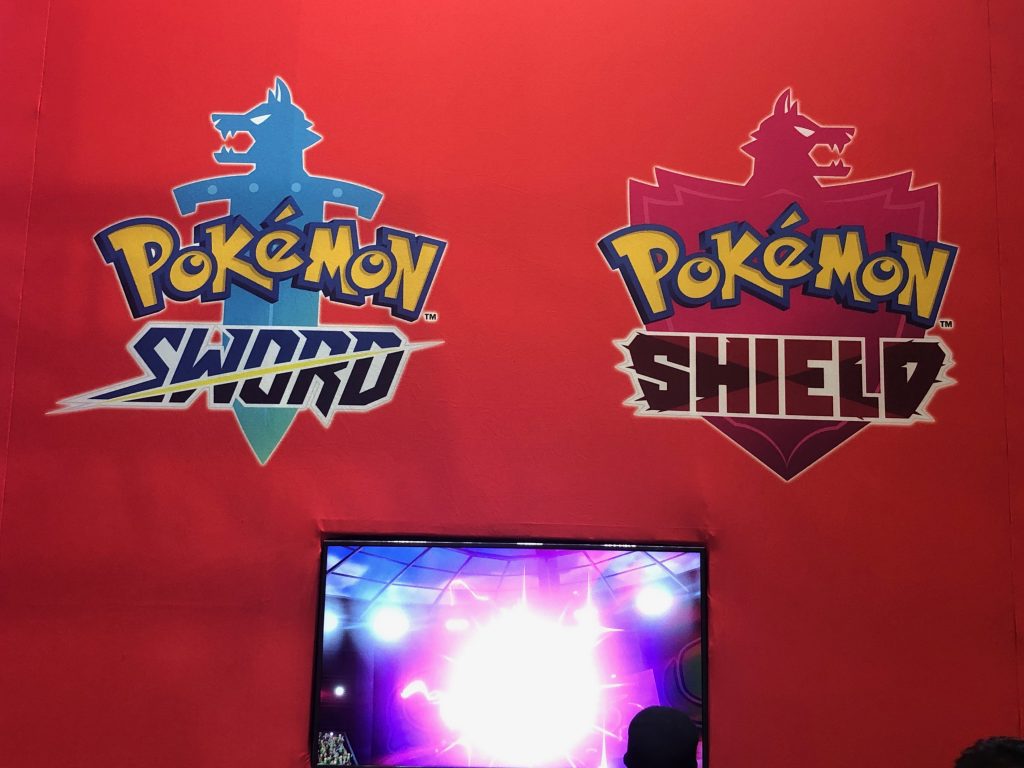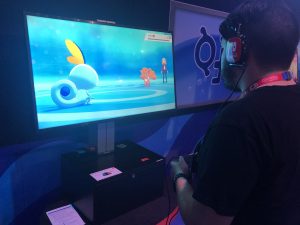 Another favorite moment at E3 was being able to play the demo for Pokémon Sword and Shield (PSAS). Also being a huge/long time Pokémon fan, words could not describe the excitement I had for having the opportunity to demo PSAS. The graphics looked amazing. The gameplay mechanics were familiar enough to jump in right away but different enough to where it sparked curiosity to learn more and discovery more details about the game. Just as a side note, I have played every single main series game for Pokémon, going all the way back to Pokémon Yellow, so being able to play the demo for a main series Pokémon game (a game that isn't out yet) will always be a surreal and memorable moment for me.
As a developer myself, being able to participate in an event of this caliber, I really got to deep dive into the "whys" of a company developing their game. In other words, not only did I go to E3 to play certain games early, I really got to hear company philosophies on certain evolving gameplay mechanics and sort of articulate to the fans of why the experience will be much better in their next title. Thus, this was an awesome learning experience whether I sat down to watch a presentation for a certain game and/or, if I got the chance, to talk with some developers about their future goals for development for their game.
I just wanted to take the time to thank the folks over at ESA for giving me this amazing opportunity to attend E3 – and I'm so proud of our team at 7 Generation Games for winning Best Learning Game Artwork at the ED Games Expo to earn the passes as a prize! – as I always wanted to go and allowing me to remember as well as capture this experience!