Since the last post was kind of long about how teachers use 7 Generation Games in their classrooms to teach math, thought I would give a brief rundown on a few uses today.
Practice for online tests – few teachers, especially in small, rural schools where online testing is new, tell me that they have students use our pretests as practice for the state exam they'll take later in the year. They just want students to get used to the dragging and dropping to answer a question, to filling out online forms.
We didn't create the tests with that in mind, but if it helps you, you're welcome to use them and they are freely available.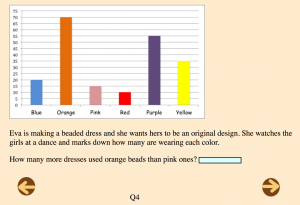 Spirit Lake/ Making Camp test – multiplication and division
Fish Lake test – Fractions, fractions and only fractions
Forgotten Trail/ Aztech test – fractions and statistics
For schools that use our games, we offer data analysis for no extra cost. That is, we can send you a report on the average score of your students, the percentage who answered each item correctly, etc.
However, even if you don't use our games, you can still use the above tests.
 Speaking of which …..
---
Check out our games here. Cost ranges from free (!) to less than ten bucks.