Going through our archives, we came across this great post from October 7th, 2014 "When are you done? The big question for entrepreneurs " that we wanted to share in case you missed it the first time around.
Every day, every week, I face the same question that all entrepreneurs ask themselves –
"How do you know when you are done?"
Most days, I start work around 10 am and finish about 14 hours later. Usually, I take off an hour for lunch and an hour for dinner, or take a few hours in the middle of the day to get away from the office. Sunday, it was taking my grandchildren to the Natural History Museum and the park.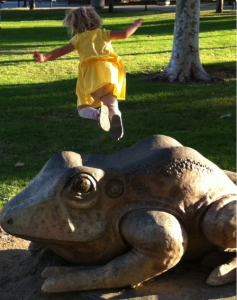 I average 10-11 hours a day, seven days a  week. Even then, there is no end in sight to the tasks I want to accomplish, goals I want to achieve. When there's no time clock to punch, no boss looking over your shoulder, how do you decide when it's time to hang it up for the day?
One answer is when you are just exhausted and making more mistakes than you are progress. Frankly, the prospect of just working every night until I fall asleep from exhaustion  isn't very appealing. I did that in the year after my husband died, and even though it was probably a preferable (and more profitable) way of coping than drinking myself into a stupor every night, I can tell you that  it's not a lifestyle I would recommend. The reality is that there is never, ever going to be a day at the office when I say,
Okay, that's it. No more work to do here. Time to head to the beach.
Some people (who are not me), would say that you should take off to celebrate achievements. For example, last week, I:
 found out that a project we had worked on for a client had been wildly successful,
submitted a grant proposal to create a game for English language learners, including receiving written agreement from teachers in three school districts in three different states to assist with development,
finished 1/4 of the lectures for a course I will be teaching soon,
made major improvements in one level of the Fish Lake game, which we will be able to use for Spirit Lake as well,
found out that a huge school district is now using Spirit Lake,
renewed a consulting contract,
created css to improve our web pages in the Fish Lake game,
did the usual stuff of meetings, approving payroll, answering email, reviewing staff tasks on basecamp, updating a few things in the company wiki, approved a couple of employment contracts.
And all of this was accomplished with having spent all of Monday in airports and on planes flying back from Kansas City where I had been as coach for a judo team of seven students from Gompers Middle School. So … did I take off early? No, because I still needed to:
submit a revised budget for a contract,
submit another revised budget for a grant,
rewrite the PHP for a client database,
get ready for an investors' meeting,
figure out what is wrong with the gravity in one level where the player is literally walking on air.
My unhelpful point here is that I DON'T necessarily take off to celebrate and I definitely don't take off when I have something that could be very important to our company, like a meeting with a potential investors during which I want to get as much information (and not look like an idiot) for that time down the road when we do need to bring in outside investors.
What I DO try to to do is stop working by midnight every night. There just seems to be something dysfunctional about not leaving the office the same day you came in, even if you come in at 10 a.m. I don't take off to celebrate so I can take off when I feel that I need a break.
One thing I can guarantee you for an absolute fact is that you will be less effective if you don't get enough sleep. You'll make mistakes you never would have made if you were not so tired. Knowing this,  another reason that I try to quit working at midnight so I can be asleep by 2 a.m. That gives me 8 hours to sleep before I get up and hit it again at 10 a.m.
Staying up until 5:30 a.m. as The Invisible Developer sometimes does strikes me as counter-productive. You're just going to sleep later  the next day, so why not just go to sleep now and start up again when you are rested enough to be more effective. Even if I do say so myself, this post I wrote about doing one more thing before you go to bed is worth reading. Often, that one more thing will be to make the list of the things that are a priority for tomorrow. I then can knock off with confidence that I'll get on those things first thing the next day.
I work hard, I work a lot, but I have learned not to make myself crazy trying to get everything done, because … at the end of the day, there's another day. That's how time works.