7 Generation Games is one of the Top 10 finalists for Tech Inclusion's Startup Showcase Pitch Competition! The event is being held as part of the Tech Inclusion Conference presented by Google for Entrepreneurs in San Francisco, Oct. 26-27.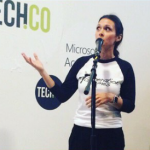 The Startup Showcase highlights "ten outstanding early stage entrepreneurs [who] will pitch to investors on stage and host demo booths during the evening happy hour." Yours truly – CEO Maria Burns Ortiz – will be representing 7 Generation Games. If you will be there, let me know! At the very least, stop by my demo booth.
As anyone who follows us regularly knows, we're big believers in pushing for more diversity when it comes to tech, so we're especially honored to be selected as a finalist for this exciting event – and to get a chance to tell the people about what we're working on, like Making Camp (if you haven't downloaded our amazing FREE iPad app, you should do it now)!