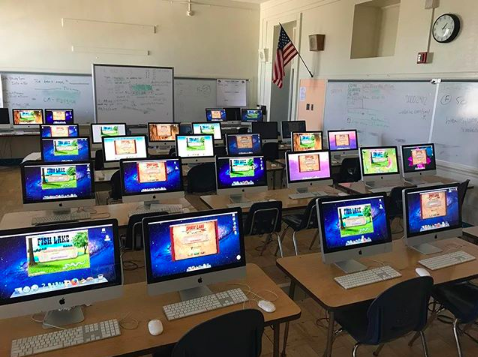 Maybe two or so years ago, I had finally managed to get a warm-ish introduction to an investment fund that everyone had been telling me 7 Generation Games would be perfect for. Woohoo! I thought.  [Early spoiler: This post does not end with them handing me a suitcase full of $100 bills.] About a week later, I got an email from one of their principals about setting up a call. In the course of the conversation, it became quickly clear to me that 7 Generation Games was not going to be a perfect fit.
We had not ramped up to 200,000 users in like 3 months, so that was working against us. I know that's a thing that VCs want. But for us, it was more important to first prove efficacy because if you're taking time from kids' school day and having them spend it using a product that you can't say with some degree of certainly works, then you're part of the problem. And our business model is based around making money from the get go, not following the newspaper's going digital model of the 1990s "where we give our content away for free and will figure out  who to get people to pay later" (that's worked out swell). Since we're still around and many other companies have come and gone, I'm cool with the taking the route we have.
But the second point that came up in that discussion is why I'm writing this post:
"We don't really invest in content," I was told.
It wasn't the first time I had heard this statement. The reality is that a lot of edtech investment, especially when it comes to K12, has not been on the content side, but on enterprise software and data platforms. And I get it because it's a lot easier to make it simpler to develop a software that enables across a district to be able to use a single-sign on or to track attendance data than it is to close the proficiency gap.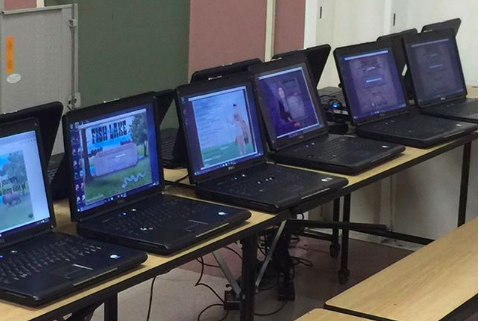 But that thinking has always boggled my mind – and it still does. If you spend any time in edtech, you hear all about the idea of going 1:1 (that is a device for every child). Or when that is not a reality (because for a lot of schools/districts, it is not), there is at the very least a proliferation of devices.
But what educational value is there in hardware if you don't have the content to go with it?
So I was pleasantly surprised today to hear that come up at the NewSchools Summit, where I was one of the 1,000 or so people attending the annual event dedicated to looking at the future of education. In the AR/VR in the Classroom session in particular, one of the panelists brought up that you don't want technology that schools are investing in collecting dust because there's no content to use with it. In the same session, Tina Tran of Occulus said that when she hears someone says they've created 100s of pieces of content in VR, it makes her uneasy (and highly skeptical of the quality of that content) because creating good VR content is hard and time consuming. (I would also add expensive!) As we are now adding in AR components to AzTech Games, I can attest that is very true. And I would argue that's true to any kind of quality educational content.
I'm not leaving San Francisco convinced there will be a seismic shift in investing in content. But maybe there's a growing awareness in the importance of it. But I am leaving San Francisco as convinced as ever that we're doing the right things at 7 Generation Games. We're staying true to what we believe is the best plan and strategy for our company. One that saw us not only hitting or 2017 annual projections, but surpassing as we marked our first year of profitability. Woohoo!  The amazing investors that we have see that.
Today's talk about content got me thinking about the 2016 content conversation, and at the end of the call, I was asked if I'd send over a written response as to why I thought we were a company worth investing in. I went back and looked in my emails, and what I wrote then, I think still holds up today. It's why we made 7 Generation Games, and I wouldn't change a thing.
I wrote:
You also asked why [X] should consider investing in 7 Generation Games given our educational content focus. The most basic answer is because, if the goal is truly make progress toward closing the gap for students who are being underserved, content that teaches the skills and concepts necessary for future success is what students need more than anything. Math is unquestionably one of those skills.
One of the schools where we are piloting our games is [XXXXX]. Their math proficiency rate is 8%, and one of the teachers there using our games in his classroom summed up why I believe investing in content is essential when he said, "We know our kids are struggling. We don't need one more thing that collects data and tells us that. What we need is something that helps us fix the problem." That's why he is using our games in his classroom – because he sees us helping to fix the problem. Our games provide the information students need to acquire math skills – and it's not coming through drill-and-repeat or more assessment that doesn't teach. It's content that effectively teaches. (For the record, our games also do collect data and provide analytic reporting, including pre- and post-test scores and session and longitudinal gameplay data.)
To us, it comes back to "if what was being done right now was working – especially when it comes to math – scores would be going up, and they're not." We have games that have shown to improve student math scores over multiple rounds of testing. We think that's worth investing in.