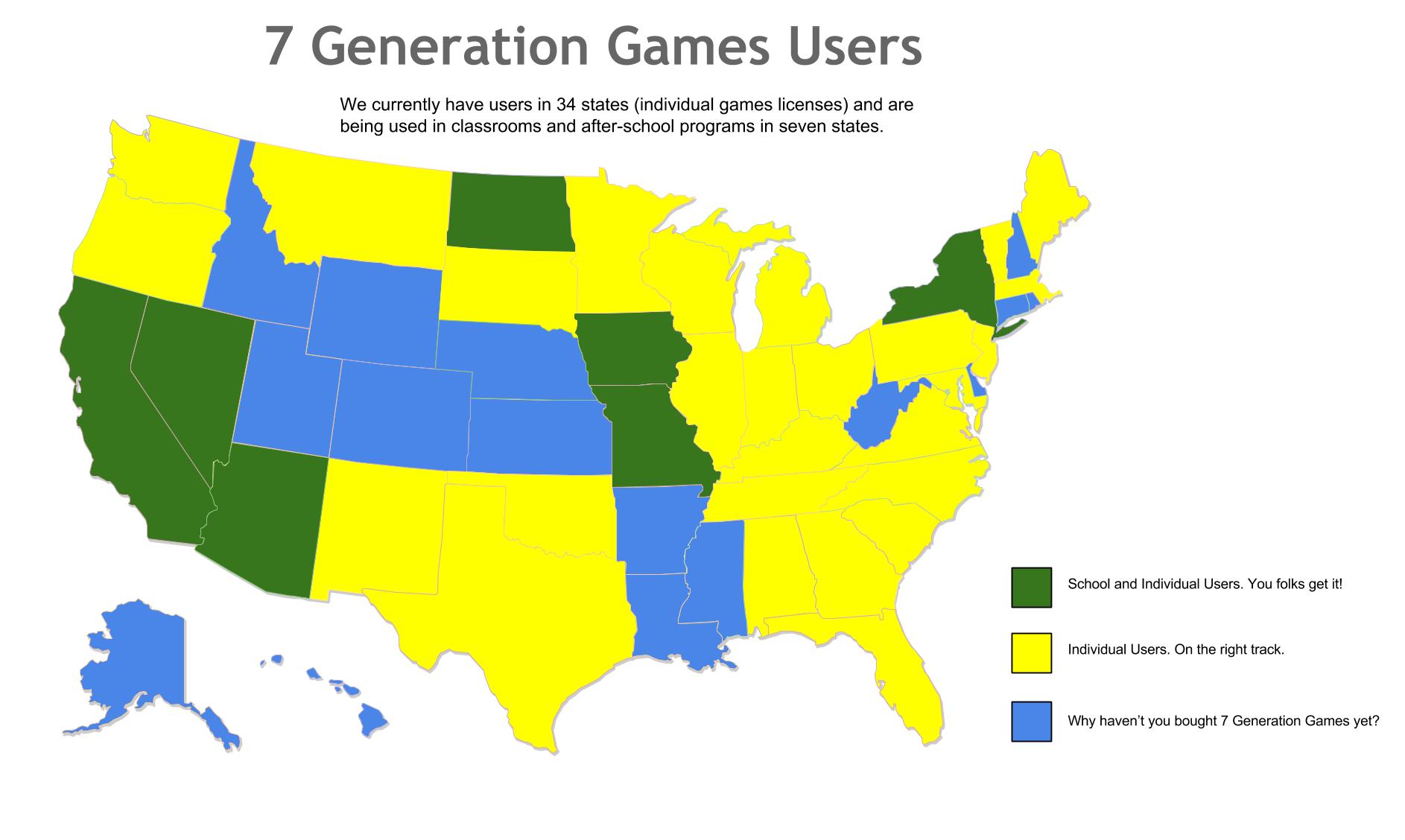 To enlarge the map above to a full-screen size, click here.
We were updating our list of game licenses to see where our educational video games are being played in the United States and around the world. We discovered that we now have schools and after-school programs playing our games in 8 states and individual users playing our games in 34 states. We also found that we have individual users playing our games in seven different countries; Australia, Ireland, Canada, Belgium, United Kingdom, Germany, and the U.S.
We're excited about all of the progress that we have made so far, but we still have 16 states remaining before we are able to throw a tweet-up celebration of epic proportions in honor of 7 Generation Games' achievement of reaching all four corners of the United States. The remaining states are:
Alaska
Arkansas
Colorado
Connecticut
Delaware
Hawaii
Idaho
Kansas
Louisiana
Mississippi
Nebraska
New Hampshire
Rhode Island
Utah
West Virginia
Wyoming
Although the end of 2014 is approaching soon, I am making it my personal goal to show as many people as I can how awesome our games are and to see if we can get people playing Spirit Lake: The Game in all 50 states by the end of the year.
I do believe that we can accomplish this because our computer games are fantastic! Spirit Lake: The Game is not only is fun to play, but teaches kids math and Native American History. What more could you ask for? You can download our demo and try it out for yourself for free. If you like what you see, you can buy the full version of the game for $9.99 on our website here.
And you live in one of the 16 states listed above or know someone else who does that could benefit from playing our educational video games, please encourage them to check us out… after all I think they will like what they find.