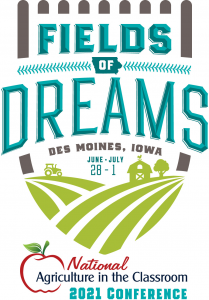 7 Generation Games will be an exhibitor at the 2021 National Ag in the Classroom Conference! We invite you all to register virtually to attend! We hope to see you there. Come visit us!
"Fields of Dreams" is a three-day hybrid conference. It provides professional development in agricultural studies for teachers and education professionals.
Dates: June 28 – July 1
In-person attendee fees
Before June 1, 2021 – $435
June 1-June 14, 2021 – $485
June 14, 2021-Onsite – $535
Full registration includes all conference meals, breaks, and your selected traveling workshop on June 29, 2021.
In-person event venue
Des Moines, Iowa
June 28 – July 1, 2021
Iowa Event Center/Hilton Des Moines Downtown
Attending virtually?
Until June 28, 2021 – $50 registration fee
Virtual registration
Virtual registration includes choice of three live streamed workshops per hour over three days, and the two keynote speakers. Sessions are available to view for 3 months.
Click the button below to view the conference registration page in a new window.