7 Generation Games continues to grow! We're excited to announce that we are establishing an office in the Twin Cities in July 2019.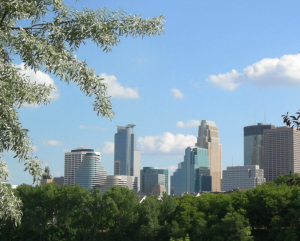 This office will serve as our sales and marketing hub. Our development team will remain in Santa Monica and our Latin American operations will continue in Santiago, Chile.

As much as we love the alliteration of Santa Monica – Santiago – St. Paul, our (at least, initial) Twin Cities location will be in Minneapolis.

As 7 Generation Games CEO, I will be heading up our new office – as in "yes, I'm moving to Minnesota" (we closed on our house today!) – while coming back to our Santa Monica office every 4-6 weeks for meetings, strategic planning, etc. But not going to lie, come December/January/February, the California office visits will serve a dual do business/thaw out purpose.

On a lot of levels, the move makes sense – just as long as you don't think about the whole "winter" part.

7 Generation Games has a strong base of school customers from Wisconsin through to Montana. There's a saying in business that you need to be where your customers are. And as you likely know from following our travels on the road, we spend A LOT of time going to where our customers are – but having an office right in the same city as the airport hub that connects to the cities where our customers are or being within driving distance puts us even closer, which will allow us to build out our current school relationships even further as well as develop new ones.

In the Great Plains, the tribes – Ojibwe, Dakota and Lakota – that we cover in our games are actually part of the classroom curriculum. When we tell schools that the games are cross-curricular, they see it as an added value – especially when they see that our games have been developed with and vetted by communities portrayed.

This is a far cry from the mindset that we have come up against in many meetings with NYC/Silicon Valley tech folks. When we first started our company, the very first VC that we pitched (it was early, so we were just looking for feedback, not money) said to me, very bluntly, that basically it was a nice idea, but no one really cared about Indians and there wasn't going to be any market for the game because of the narrative we chose. He saw the game storyline as something we would have to overcome – not as the asset it is.

From a business standpoint, the Twin Cities have a growing and collaborative startup scene that felt like a fit for what we're building.The edtech folks who I have had the pleasure of meeting there have been incredible, and 7 Generation Games looks forward to being a part of the community. And as much as I love being from California, the truth is the cost of doing business, especially on L.A.'s Westside has gotten insane. When you have to be thinking about and constantly looking at the bottom line, you come to realize that things like the cost of rent and what you need to pay employees so they have an actual livable wage are more affordable in more affordable places.
And while no city has really risen to the must-be-here place for edtech, Minneapolis/St. Paul has emerged as a great place for medtech. Why does that matter/how does that relate to us since we're not doing like medical devices? Because medicine/healthcare isn't something that transforms overnight. It takes time. You have to test it and test it again because if doesn't work out, it is the kind of thing that has real implications on people's lives. It's not about getting 5 million unpaid users in the first 24 hours of launch, but about creating effective and transformative products. Education innovation – like true innovation – isn't all the different. We want to be part of a startup scene that values that.

Interested in learning more? Feel free to shoot me an email.

If you're a school in Minnesota – or more broadly, anywhere in the Great Plains/Upper Midwest (Wisconsin, Minnesota, Iowa, North Dakota, South Dakota, Montana) – we'd love to set up to meet.

We'll also have some openings at our Twin Cities office – probably toward the end of the summer – for not only fall interns (paid), but also in-the-not-too-distant future sales and marketing roles. Keep an eye out here – or be super proactive and feel free to send along your info before then.

If you're another startup in the area, we'd love to connect.

Growing 7 Generation Games has been an exciting adventure, and we look forward to this next step in our expansion.
In other cool news today, we officially launched "Math: The Universal Language AR – Lakota."