Maria Burns Ortiz of 7 Generation Games was only U.S.-based company to win category round.
Hyderabad, India – Maria Burns Ortiz of 7 Generation Games was one of four global entrepreneurs to advance to the Global Innovation through Science and Technology (GIST) Catalyst pitch final at the Global Entrepreneurship Summit in Hyderabad, India.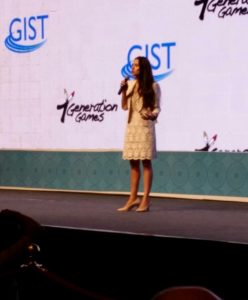 The top finisher in the Media & Entertainment category, Burns Ortiz represented the only U.S. based company to advance to pitch its enterprise in front of 1,500 attendees from nearly 150 countries at the GES closing plenary and over the event's livestream on November 30.
The GIST pitch contest was held as part of the 2017 Global Entrepreneurship Summit, a three-day gathering of global entrepreneurs hosted by the Government of India and the U.S. State Department.
The finals were comprised of one founder representing a company from each of the four GES industry focus areas: Media and Entertainment (category winner: Maria Burns Ortiz, co-founder of 7 Generation Games, United States), FinTech and the Digital Economy (category winner: Jainesha Sinha, founder of GyanDhan, India); Energy and Infrastructure (category winner: Ajaita Shah, founder of Frontier Markets, India); and Healthcare and Life Sciences (category winner: Fiona Edwards Murphy, founder of ApisProtect, Ireland). From the four finalists, Shah, founder of the solar-energy focused Frontier Markets in India, was named the Grand Champion.
For advancing the four final, Burns Ortiz won $20,000 in Google Cloud credits, $10,000 in Amazon Web Services credits, a Dell laptop and other in-kind prizes.
7 Generation Games
Combining educational research, game design and artificial intelligence, 7 Generation Games makes video games that teach math in culturally relevant context – in English and Spanish. The startup, based in Santa Monica, Calif., develops games optimized to meet technological needs from urban centers to rural and network limited communities with the aim of closing the math performance gap, both in the U.S. and expanding internationally in 2018.
Maria Burns Ortiz
Co-founder and CEO of 7 Generation Games, Maria Burns Ortiz is working to create a better future through better educational games. Taking 7 Generation Games from concept to award-winning company, she oversees all creative aspects of game development, including design, narrative and artwork. Maria's business development focus is on strategic partnerships and international markets. A mother of three and a N.Y. Times bestselling author, Burns Ortiz was named the National Latina Business Woman Association of Los Angeles Rising Star of 2017.
GIST Catalyst Pitch Contest
The pitch contest was only open to companies participating in the invite-only GES summit, nominated and invited by the U.S. State Department, Indian Government and U.S. Embassies. From the more than 75 startups that applied, 24 advanced to the live semifinals based on a combined score of public vote and expert judges. In the semifinal round, companies competed against others in their same focus industry for the chance to advance to the overall final, in front a panel of executive-level judges from leading tech companies including Google, Amazon, AirBnB, Dell and more.
For more information or for an interview, please contact info@7generationgames.com.