As we've mentioned, our company is in the middle of participating in BoomStartup's EdTech accelerator in Salt Lake City. We're one month into the three-month program and we can already see to why they call it an "accelerator" as things are moving at an even faster pace than usual around our offices. We were very excited to be in the program and were even more excited when they asked to feature us in September's BoomStartup newsletter. Below is the writeup by BoomStartUp's Scott Campbell: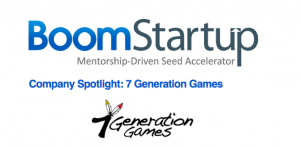 It's been a whirlwind first three weeks for our inaugural BoomStartup EdTech cohort, none more so than for the 7 Generation Games team, who while developing their mentor relationships and business model canvas have also seen co-founder Maria Burns Ortiz's recent book, My Fight Your Fight, on the New York Times best-seller list. Additionally, Burns Ortiz's sister and 7 Generation Games alpha tester, Ronda Rousey, has captivated the sports world with her dominance in the octagon in UFC fights.
"It's been a really interesting dynamic because when you talk about startups there are lots of ups and downs," Burns Ortiz said. "The book was great because when you talk about startups one of the big things is how are you going to fund it? So I took two and a half months off of working on the company, but then it results in something that allows you to keep building and gives you a little bit more runway."
7 Generation Games creates math and history games that teach, test, track, and produce results for students in grades 3-8. In their first year, they found that students improved math scores 300 percent over control groups when they played the games three times a week for 30 minutes a day over an eight week period.
The Los Angeles-based company will release a beta version of their third game, Forgotten Trail, in the next month. Additionally, in January, they will release their first bilingual game. Aztech Games allows students to complete the identical math lessons in classrooms with English and Spanish speakers learning side-by-side and without any additional curriculum or language knowledge required on the part of the teacher.