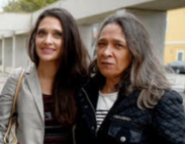 If you've been on the Internet today, you've probably noticed it's International Women's Day. From the Google Doodle to news stories to social media posts to subject lines for various emails, the annual celebration of "the social, economic, cultural and political achievement of women … [and] call to action for accelerating gender parity" is making headlines. Of course, as female-founded company, every day at 7 Generation Games is basically women's day because every day we're women.
It's not what defines us as a company, but it's certainly part of our identity. It's something we have chronicled quite a bit, as we've worked to build 7 Generation Games from an idea to implemented school curriculum and an icon on your iPads.
Here's some of what we've shared along the way…
Tweeting out #IWD2018/#InternationalWomensDay is nice, but actions speak louder than words and hashtags. Here are 4 ways to support women-owned businesses.
Looking for some female-founded companies to support? Last International Women's Day, we compiled a nice list on that for you. And that's just a few of those in STEM/EdTech off the top of our heard.
Women get 2% of VC funding. Women of color get .02%. So tell me again what a great time it is to be raising money as a female founder.
If you want something you have to ask for it. No else is going to ask for you.
Too many "women in tech" events aren't actually aimed at women in tech.
I'm not looking for empowerment or celebration or mentoring. I'm looking for investment, sales and better software development.
Does this sound familiar:
If you haven't read, seen or heard about the latest hand-wringing over the lack of diversity in tech, just wait for the next one. It goes like this:
Someone at some huge tech company does something sexist/ racist.
There is a lot of hand-wringing/ tweeting over how tech is predominantly male, predominantly white.
A lot of people respond that it's really about merit and women, Native Americans, Latinos and African-Americans just need to work harder.
The same people in tech every time say they aren't like that and pledge to support women, people of color and LGBT people in tech.
This cycle repeats every few weeks so if you missed this one, just wait a bit.
WHY is this a problem and what can we do about it?  A lot of things, actually, if we didn't want to just talk the talk.
First of all, note that the lack of women in tech is a self-fulfilling prophecy.
We know women are held to higher standards, expected to do more with less, given fewer opportunities, given less money and treated with less respect. And yet – year after year – it's the same outrage with no real outcome. Tech is an industry known for moving fast. But the industry can't make more than incremental changes at best when it comes to women?
Data doesn't lie. While the number of women entering the tech field is growing, the numbers show there's still a long way to go before we approach anything that even begins to resemble parity.
Over and over, I read how female founders don't get funding, and then I read another article about how women are just not aggressive enough, too family focused, not interested in tech and that's why they aren't as successful.
To all of those women who have been here, yes, ever since Fortran class in the 1970s, it's a bit of a slap in the face to have people talking as if there are no women interested in programming, as if they don't have the drive or the experience.
Seriously, though, if every person who #womenintech or #diversityintech bewailed sexism or lack of opportunity or the latest ignorant remark by some CEO actually went and backed a product with a female or diverse founder, that would go a long way toward leveling the playing field.