Teachers work extremely hard, but get little recognition for their efforts. Many teachers even work up to 12-16 hours a day. That's why we want to celebrate those teaches that go above and beyond for their students by featuring outstanding educators, both here and in our newsletter. (Don't subscribe to our newsletter? Sign up at the bottom of the page.)
Our first amazing teacher to be featured is Tammy Green. She was nominated by her husband, who is so proud of her dedication to educating future generations.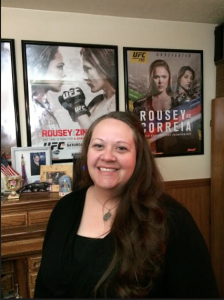 Tammy graduated from Boise State University with a Bachelor's degree in English for teaching secondary education. She went on to receive her Master's in Art Curriculum and Instruction from Concordia University. 
"She is brilliant. I am biased, but it's true," said her husband, Aaron.
Tammy has been teaching for 12 years and has left a lasting impact at every school she was at, both inside and outside the classroom. Tammy has taught multiple grade levels as well as remedial reading. During her time as a 9th grade teacher, she organized the Renaissance Fair, providing a fun and engaging experience for students. She also coached the cheerleading team.
Tammy was later transferred to West Junior High in Boise, Idaho, where she currently teaches 7th grade English. In her new position, she has kept on making  a difference. Tammy developed a writing intervention program in order to give one particular student who was falling behind the extra mentorship the student needed. It's exceptional teachers like Tammy, who truly go the extra mile for each and every student. Tammy also helps with the school's extracurricular activities as a cheerleading coach. 
Outside of school, Tammy is an amazing step mom to two teenage girls. She is also a huge MMA fan, particularly of Ronda Rousey. She named her Ford Explorer with a V8 motor Ronda because it is beautiful, but bad ass. We definitely approve of Tammy's taste in athletes. (After all, Ronda Rousey loves 7 Generation Games.)
Thank you for your amazing work, Tammy! It's teachers like you that change children's lives for the better. 
Know a great teacher like Tammy? Tell us about him/her and he/she will  be featured in our newsletter as well as receive some cool 7 Generation Games gifts. You can nominate a teacher through our contact page or by emailing info@7generationgames.com. 
We've found that teachers are modest, and their colleagues usually say nicer things about them than they do about themselves. We take nominations from principals, colleagues, teachers, students, relatives. Think your mother, father, wife, husband, brother, sister who is a great teacher doesn't get enough credit? Nominate them today! When sending info on her our way, please include their email because, if selected, we will contact the featured teacher before running the piece to make sure it is accurate.