The ED Games Expo is coming up next week! That's always an event that 7 Generation Games is happy to be a part of. If you don't know, the ED Games Expo is the annual public showcase of game-changing education technology (EdTech) innovations created through more than 50 programs at the Institute of Education Sciences (IES), the U.S. Department of Education (ED), and across government. This year, the ED Games Expo is being held at the John F. Kennedy Center for the Performing Arts REACH and different locations in the Washington, D.C. area from September 19 to September 22, 2023.
7 Generation Games will be there! If you'll be there too, be sure to catch our CEO Maria Burns Ortiz at any of the events below.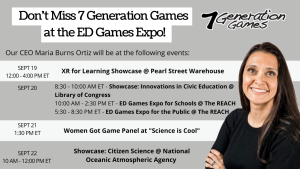 The ED Games Expo is a free event, so head over to their website for more details and their full agenda. Below is the registration link for the ED Games Expo for the Public if you'll be there in person. And if you can't attend in person, you can still register to attend the "Science is Cool" virtual unconference which will be livestreamed. That registration link is included below too. See you in D.C.!
CLICK HERE to register to attend the ED Games Expo for the Public taking place September 20 from 5:30 PM to 8:30 PM
CLICK HERE to register to join the Science is Cool (ScIC) livestreamed event from the ED Games Expo taking place September 21 from 12:00 PM to 5:00 PM.