Educators, you've nailed teaching Social Studies in a classroom…but what about teaching Social Studies remotely?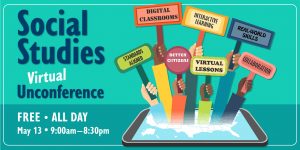 Don't worry! 7 Generation Games has joined with some of the best online Social Studies and Civics teaching resources along with the experts that developed them as part of a FREE virtual Unconference. Through the sessions, you will learn how to use these tools to engage your students. You will discover interactive techniques, amazing content, fun role-play and so much more. From elementary to AP, there is something for everyone.
The Unconference will be held Wednesday, May 13th from 9:00 AM to 8:30 PM EDT. Join Maria during her session, Learning Without Hovering: How to Excite, Empower and Educate at 12:10 PM Eastern/11:10 AM Central/10:10 AM Mountain/9:10 AM Pacific.
Also, every resource that is shared will be available for FREE for at least the remainder of the school year!
Don't Miss 7 Generation Games CEO Maria Burns Ortiz's Webinar, Learning Without Hovering: How to Excite, Empower and Educate
Summary: In shifting the classroom experience to a distance learning model, what does student-led learning look like now – and as we head into the summer? How can we provide educational and enrichment activities that address – not widen – equity gaps? This interactive session will explore social studies education from a cross-curricular approach, with examples of lessons, access to educational resources and free tools that will help students achieve learning outcomes without requiring extensive parental participation or push.
Time: 12:10 PM Eastern/11:10 PM Central/10:10 PM Mountain/9:10 PM Pacific on Wed., May 13, 2020
More: Social Studies and Civics Virtual Unconference, 9:00 AM – 8:30 PM EDT
REGISTRATION AND FULL DAY AGENDA
---
If you missed Maria's Math Unconference session, Parental Un-involvement: Designing Lessons that Students Can Do With Minimal Home Help, no worries – you can watch it here.