Annie Hammond offers insight from an educator's perspective on educational gaming.
A new school year is a fresh start for teachers and students…right? Of course it is! That is until the previous year's testing results arrive. Just when teachers and students are putting one year behind them, and looking forward to a new year and new goals, they are reminded of last year's testing. Teachers will spend non-contract time racking their brains to revamp lesson plans, asking themselves, "what else could I do to help my students?" Students will also spend more time reading and studying, and also asking themselves, "what else could I do to raise my test scores?"
How about playing a video game to help students understand math and history a little better, which in turn would help them during testing throughout the year? Seriously? Seriously! 7 Generation Games offers educational games that benefit everyone involved in the educational field: students, parents, teachers and administrators. There are currently two games available (Spirit Lake and Fish Lake), and a third will be available in a few weeks (Forgotten Trail). While teachers stress less and students enjoy the game, these games have been proven to enhance student scores.
Not only will students complete math problems, but they will also take a journey through history, learning about different cultures and ways of life. The progress of every student is trailed and not forgotten (see how that works?). This allows the teacher to see the progress of individuals and the progress of the class as a whole. Specifically, the teacher can monitor which concepts are being understood and which concepts are not.
So, as a teacher you're probably wondering, "Is there really a game that my students will enjoy playing while learning, and a game that creates an awesome report for me?" The Answer is, yes. 7 Generation Games has your back!
THE END OF THE YEAR BRINGS NEW EXCITEMENT!!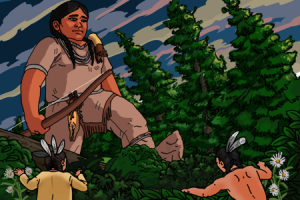 With Thanksgiving just around the corner, there's lots of buzz here at the 7 Generation Games office.
As some of you already know, the beta release of the first five levels of Forgotten Trail is out. Getting the game in front of our early adopters is always a special time as they tackle levels and math problems, we've been hard at work creating. Students also got to experience the game first hand as our CEO Dr. AnnMaria De Mars, held a demo at a local school here in Santa Monica, CA.
As we continue to move forward in getting Forgotten Trail out to the public, don't forget that the 7 Generation Games website is jammed packed with fun and informative resources that cover math and history. Check us out!