People often imagine life at a start-up as being more exciting than it actually is. Many hours are spent debugging code, balancing budgets or in meetings with investors. Friday, however, was one of those days that lived up to the hype.
Maria and I do a sort of weekly podcast called More Than Ordinary.
As a small company, we don't have a huge marketing budget, but we do have a superb technical staff, so we record our own podcast and include a few advertisements for our games. On Friday, we had Chuck Zito, who just happened to be in the neighborhood drop in to be on our podcast.
Chuck has been on shows from Sons of Anarchy to Oz to Chopped. (Yes, a former Hells Angel on the Food Network – of course we had to give him crap about that.) He was super cool and nice about it. He even gave me a copy of his book, Street Justice.
Chuck is a truly  larger-than-life personality, and as you can see from the picture below, he is one hell of a lot larger than me. He told us there were no questions off the table and talked about everything from his six years in prison to his radio show and television career. He swears as much as I do and since he doesn't work for 7 Generation Games he is not bound by Maria's "No more than one swear word per episode" policy. Our sound guy, Jonah, asked if I should bleep the episode. Chuck and I told him, "Fuck,no!"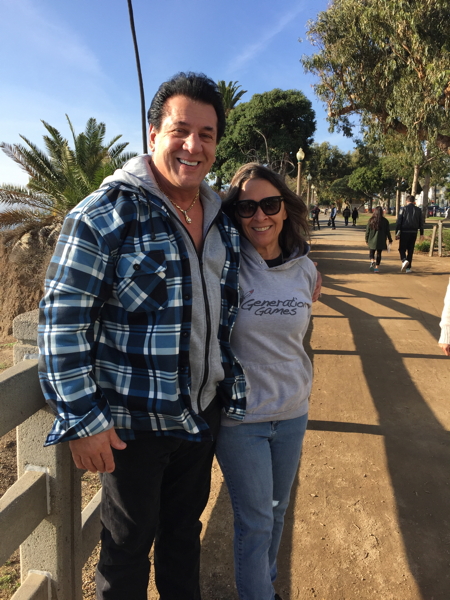 After Chuck, we had my friend, Pete Antico again. The podcast episode with Pete, who is a stuntman, producer, author, actor and also happens to have Tourette's syndrome , had the most downloads of any episode we ever did, so we were lucky to have him back. Pete has done stunt work in 92 films and acted in 63. He's also written a screen play about his life. He didn't mention that on the podcast but it is brilliant and I hope to see it produced soon. I don't say that just to be nice. Most of the screen plays I have read are terrible. I can feel my brain cells dying as I read them. Pete's stands out like a pearl in an oyster.
Afterwards, we all had a nice lunch at Fig at the Fairmont Hotel, then walked down and took a selfie together with the statue of St. Monica at the end of Wilshire Blvd. – the end of the last street on the continent.
The episode with Chuck will be up on Friday, January 13th. Our encore episode with Pete will be available January 19th.
---
When we're not recording podcasts, we're making video games. We'd be thrilled if you tried us out.
We have a free app, Making Camp, available on both iPad and Android tablets