Whether we're talking about a certified in the largest school district in the country or a parent helping a child with homework, the best case scenario is individual attention from a competent, caring adult.
So, what if that competent, caring adult has the flu and you have a substitute who didn't find out she was teaching your class until 6:30 this morning? What if you are that wonderful parent but you are occupied taking your other child to soccer practice, buying groceries or finishing a project for work?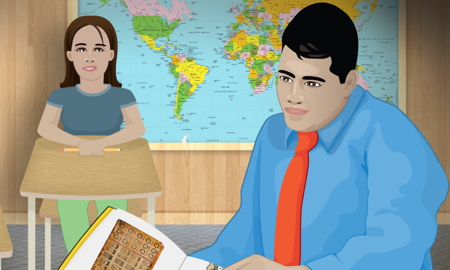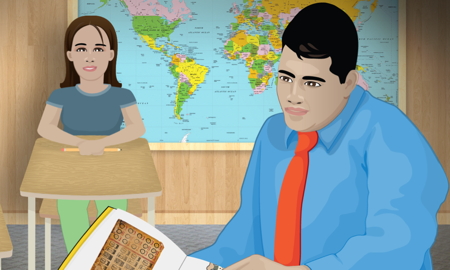 I've never seen the educational software that can replace a teacher but I do have some good news about the work we've been doing. Last night, I finished analyzing data from the quizzes in Spirit Lake: The Game.
Here is how it works: when a player misses a problem twice in a row, he or she gets sent to a page of study choices – do an activity like a memory game to review multiplication, watch a video that explains a concept, like division with remainders, or read (or have read to you) pages that explain it.
The activities take 2-3 minutes and on the average, from one-fourth to one-half of the players were then able to go pass a quiz. 
These results are one reason that I really encourage teachers (and parents) to have the games as an option for when they personally cannot be available, because our results show time  and again that a game CAN be effective education
You could look at that in two ways – either how terrible that we could not bring up the skills of 100% in two minutes or that it is amazing we could improve the understanding of over 25%.  I tend to go for the glass half-full viewpoint and think these results are pretty awesome. (Honestly, if someone told me that in 2 minutes 100% of students could now understand I concept, I'd know they were either in error or lying.)
My sense is that these are the students who "almost get it" or "can't quite remember how to do it" and the educational resources in the game give them that little boost to the next step.
We model our games on what effective teachers do. Players are sent to educational resources on the exact topic they just missed. They can select the method – reading, watching, listening, doing – that they want to use to learn. If we can determine the mistake they made, we give them a hint, "Did you use multiplication instead of division?"