Hello everyone! It's that time again, time for another Freebie Friday. Today's freebie is from our Teachers Pay Teachers site and it has to do with multiplying fractions. This powerpoint teaches you what a denominator is, how to multiply fractions with like denominators and walks you through examples. You can click on the picture below to go to the "Multiplying Fractions with Turtle Eggs" teacher resource on our Teachers Pay Teachers site.
 Multiplying Fractions with Turtle Eggs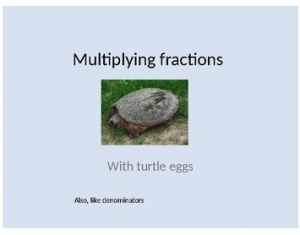 We like to provide resources for all of our games, so that even when our games aren't being played these resources can supplement the content taught. We have various teacher resources available for our games on our Teacher Resources page. Once on our teacher resources page you can browse through videos, activities, vetted links and more. Since we want to make life easier for educators, we provide teacher resources elsewhere too. As evident by this freebie, we also have teacher resources on Teachers Pay Teachers as well as many math videos on our TeacherTube site.
We know how busy the life of an educator can be which is why we want to provide you with many different resources available across different sites for your convenience. So be sure to check out our teacher resources on our website, Teachers Pay Teachers, and TeacherTube.
Have a great weekend and come back next week for another Freebie Friday.
---
We have the great educational games that you need. Find out more about them here!