Hello, again. It's Kelly from Rapid City, here on the parental front confronting the challenge of teaching my little particle more about the culture of first peoples than he is going to learn any typical fourth-grade classroom.
7 Generation Games provides authentic, historically correct first peoples' context for math learning!
Learning about culture from an authentic, historical perspective is great but I also see great value in current events.  There is no better way  to teach about current events – or nature for that matter – than getting out in it.
So, we did. We visited Army Corps of Engineers land, adjacent to Standing Rock,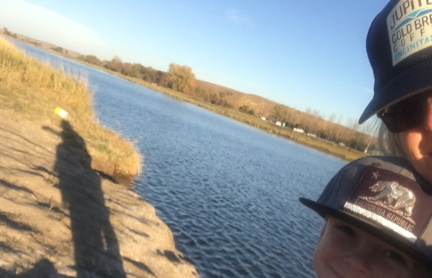 This land initially housing the 'overflow camp', which was then renamed Red Warrior Camp, Oceti Sakowin, or the 7 Council Fires (of the Great Sioux Nation) in a nod to historic 100-yr gathering of more than 200 tribal nations protecting water from environmental disaster.
This is the confluence of the Cannonball and Missouri Rivers, longest river in US. The location used to produce 'sacred stones', or large spherical stones, due to the motion of the two rivers meeting. Settlers, in their context, named the stones 'cannonballs' (hmmmm), and then later, the rivers stopped producing the sacred stones because the Army Corps of Engineers dammed the Missouri River and permanently changed its flow.
The more things change, the more they stay the same.
How is my/ your little particle going to remember the definition of 'confluence' or the history of the Dakota/ Lakota and other first people protecting the waters?
By being there.
Also, check out Making Camp – free for your iPad. It has videos and activities to teach math and culture for those days when it's too cold or you're too busy to get outside.