Congratulations, you made it to the end of another week! Your reward is this week's "Freebie Friday"! The freebie today is from AzTech Games and it is a chart. The chart is titled "# of Each Item Found in the Forest". This chart is used and can be found in AzTech Games. We suggest crafting an interactive problem around this chart so your students can visualize the problem! You can view and save the chart below: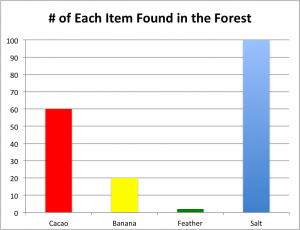 We offer educational resources, like the one above, on our Teacher Resources page for all of our games. Feel free to browse our teacher resources page for resources such as powerpoint presentations, vetted links, clip art, and activities to complement the content from our games in the classroom, home, educational blog, or any other educational need.
Have a great Memorial Day holiday three day weekend and make sure to come back next week for another Freebie Friday!
---
A great deal, buy all three games! You can buy it for yourself or donate it to a classroom or school. Click here!