It's the end of the week, so that means that it's time for another Freebie Friday! Today's freebie is associated with our game Spirit Lake and it's an authentic and copyright-free Native American photo.
Our freebie is a historical photo of a Sioux girl, Red Elk Woman, in 1907. Red Elk Woman is shown sitting down and facing right. This photo is a great resource to have because it depicts Native Americans and an aspect of their culture, the clothing, accurately.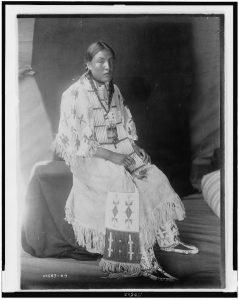 We at 7 Generation Games think it's important to have authentic Native American photos, so much so that we have a blog about the work put in to acquire these photos and another blog featuring more really great Sioux historical photos. Photos like the one above are a great supplemental resource and way to bring the game Spirit Lake to life. This photo and others can be found on our Spirit Lake Photos website page. There you can find great photos of Native American life provided by the Library of Congress website. Feel free to head over to our Spirit Lake photos page to see more photos of Native American life that you can utilize at home or in the classroom. Also be sure to check out the Library of Congress for other great photos as well.
Have a great Friday and weekend. Come back next week for another Freebie Friday!