The North Dakota leg of the 7 Generation Games traveling road show is ended and it was mostly great. They didn't have a car for me when I arrived, I caught a cold so had to give the second half of a grantwriting workshop with half my voice, but I met a lot of really fascinating people, including a musician, who said we could use his music in our games.
I also felt extremely protected by the Three Affiliated Tribes law enforcement who attended the workshop (everyone from their department towered over me) but also impressed with their system for collecting and reporting statistics.
This gets to the point of the reality show episode I am working on for this part of the trip – You Don't Know North Dakota. I think if you saw three men in tribal police uniforms your first thought wouldn't be that they had a stack of graphs and tables documenting need for their project, a budget and outline and were looking for funding sources. Yet, there they were.
If you went to Twin Buttes Elementary School, with 46 students K-8, you wouldn't necessarily assume that they had the technology to play all of our games. Yet, there I stood watching one student playing Making Camp while it was displayed on the smart board, two others playing Fish Lake, Forgotten Trail and Spirit Lake on MacBooks, a fourth playing Crossroads on an iPhone (okay, I let her use mine) and a fifth playing Aztech and Making Camp on an iPad.
This is exactly what we were funded to do by the U.S. Department of Agriculture, create games that would work under rural conditions, in small schools with limited Internet access.
You can get all of our commercially available games here, some are even free. If you want to be a beta tester for Aztech or Crossroads, which are not yet publicly available, email info@7generationgames.com.
So, that's been the first week of the 7 Generation Games Traveling Road Show – some events and people that were more than might be expected and other activities that turned out, to our satisfaction, to be exactly as expected. Overall, it's been a good week.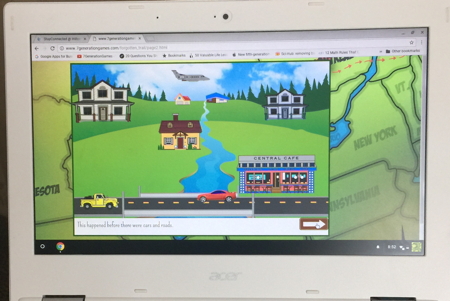 On to Iowa, where I'll be doing a demonstration of our games, Making Camp and Forgotten Trail (above) on Chromebooks.