It's Friday! You know what that means, it's Freebie Friday! Today's freebie, for making it through the week, is clip art from our game Spirit Lake. (Purchase Spirit Lake HERE) This clip art is downloadable for use in your classrooms, blogs, home, etc.
SPIRIT LAKE CLIP ART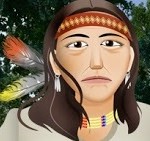 Often, Native-American media such as clip art isn't easy to find or doesn't exist. That's why it's important to us to have resources available on our Spirit Lake Teacher Resources page on our website. On the teacher resources page you will find various resources that focus on operations and numbers and the Dakota/Sioux, which complement our game Spirit Lake. So check out our website's Spirit Lake Teacher Resources page for your all your resources needs.
Have a great weekend! Stay tuned next Friday for another Freebie Friday!