This may be the only post you read this week, where someone asks you to send in pictures of your refrigerator magnets. This only goes to show you that the tasks one is required to do as a startup founder are unpredictable.
Many of our games include mini games as games within a game. Often math–related, these games may be used to study to earn a player's way back into the game after missing a math challenge, to earn a new life after dying in the game or, as in this case, be used to earn extra points.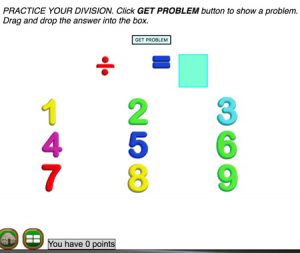 In Making Camp, I am working on a game with refrigerator magnets. Players are given a random division problem and they can drag the number of the magnet on the refrigerator that is the correct answer and if they get it right they not only earn extra points but they also can get a magnet.

I am currently in North Dakota in a hotel room that is devoid of refrigerator magnets. It turns out that the popsicle magnet above is one of only two usable magnets on our refrigerator at home.(Dennis sent me photographs.) This will result in a very sad magnet collection for the players.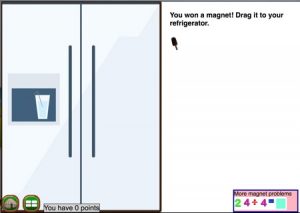 Now, the points that they earn can be used in the game to trade for a wigwam and items to outfit and decorate it. However, I try to do everything I can to make the games as fun and reinforcing as possible. I was thinking that there are a lot of cool refrigerator magnets and having a collection of them, even if virtual, might be fun for some people.
Unfortunately, the magnets on my refrigerator tend to be more of the kind with sayings like,
"There is not enough coffee in Columbia to make me a morning person".
I'm sure that some of you reading this blog have magnets that are amusing to children or immature adults. If you would email  me a picture of a magnet or two it would be greatly appreciated. You could also link to a tweet, Facebook post or other online image as long as it is yours, that is you own the copyright. My email is AnnMaria@7generation games.com
Thank you.