We're heading out to Australia in November, so, for the second time in two months, I found myself filling out a visa application. It got me thinking that this would be a great idea for those people who contact me about helping with 7 Generation Games.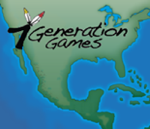 We have a great thing going here and many people have offered to be a part of it. Of course we are always thrilled when people buy our games or donate to a school, but after they have done that, a lot of people have offered to help.
We really appreciate those offers and have not done the best on helping people become citizens on our virtual worlds, and here's why. We are in the middle of raising funds to bring our games to the next level. That means the investors want to see:
Sales
Schools using our games
More home users
At the same time, they, our users and our funding agencies, want to see:
Data showing that the games improve knowledge of math, history and English,
More game levels,
Some days, it leaves me all feeling like this:
When we do have people offering to help with game design or data analysis or contacting schools, I'm sometimes terrible at getting back to them because I'm doing all of the above.
So, I thought it would be a fun idea to recruit some people to become citizens of our 7 Generation Games virtual worlds. Here's what you do, click here to apply for a visa. It's short and easy. We'll ask you a few questions like,
Are you color blind? Because then you can tell us how our games look to people who are,  and if we need to change anything
How much do you play games? Because maybe you could join Ronda Rousey on our alpha tester roster. (BTW that means you'll be trying to beat her high score, not invited over to her house for World of Warcraft. )
Do you have children? Because maybe you could observe them playing the game and give us feedback on what they like and don't?
Do you work in a school? Perhaps you could use our games in your classrooms or, if you already do, be willing to answer questions from teachers at other schools on how you use the games and how it's working for you.
Well, you get the idea.  Based on your answers, we'll send you missions to complete. These are completely voluntary. If you are too busy to do one, don't worry, just jump in the next time.
These are chosen for YOU, based on what you put in your application. You see, if you have no children in a school and don't teach there, they probably aren't going to listen if you drop by and say, "Hey, try these games."  However, maybe you could be incredibly helpful as a game tester.
You may be saying to yourself,
Yes, I'm a nice person and all, but I'm just wondering if I might be getting anything from being a 7 Generation games citizen?
The answer is, YES!
Benefits of 7 Generation Games Citizens (and visa holders)
Invites to invitation-only tweet-ups
Automatically added to our newsletter mailing list
Discounts on game purchases (and these are transferable)
Game cheats (we'll tell you about the bonus levels)
Gift packs for parents and teachers – stickers, posters, flash light pens and other random cool stuff
The more missions you complete, the more stuff you get.
Have to run now, my children are demanding my attention. Hope to hear from you soon!