Since Mother's Day is this weekend, I was browsing the web for Mother's Day gift ideas and I came across a list of the most common Mother's Day gifts by state. In California, the most popular gift is cookies. Seriously Californians, you can't be any more creative than that? The other states' gifts weren't any more impressive. They basically ranged from different kinds of sweets or flowers to random items that your mom probably doesn't even want, such as a bird feeder (New Hampshire) or a candle wall hanging (Maryland).
This year, get your mom something that she won't forget (and that won't give her diabetes or end up in her next garage sale) because she deserves it. Give her the gift of giving and buy a game in her name for students that need educational resources the most. You can donate a game in her name for less than $10.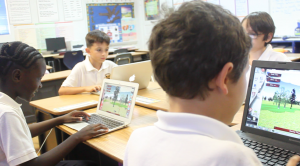 You can also give your mom an entire school. To give one of our games to a whole school is $250.