AnnMaria says that "Forgotten Trail" is her favorite game because many of the characters are based on students she has worked with in real life. My favorite game has to be "Fish Lake." "Fish Lake" teaches fractions as well as Native American history. As a child, I always loved water activities. Still to this day, I am drawn to anything that involves water. "Fish Lake" has a life-like virtual river where many of the challenges take place. Players get to build a dam out of rocks, fish with spears, and paddle in a canoe while trying to avoid rocks and logs. The canoe game reminded me of a water ride I once went on at an amusement park.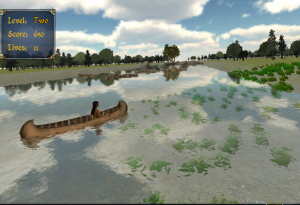 Many of the educational videos in the game also revolve around the theme of water. For instance, one video uses fish so students can visualize fractions. Another video explains the different ways the Ojibwe tribe fished.
The game also includes challenges on land, where players must find their way down a trail in the dark and hunt deer.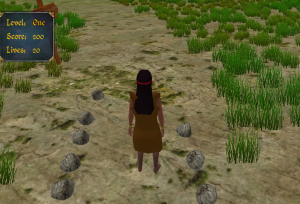 As a kid, I used to play computer games, such as "Pac Man" and "Club Penguin." If only there were games like "Fish Lake" that could make me smarter! Fish Lake is available on Windows or Mac computers.