We were recently at the NJOMA Conference in Las Vegas, which was great! We got to meet and talk to a lot of people and had a great turn out for our presentation. While the NJOMA Conference was a new conference for us, this week we'll be at an event that we are no strangers to. We'll be at the 53rd Annual National Indian Education Association (NIEA) Convention and Trade Show in Oklahoma City from October 5-8, 2022.
If you will also be at the Convention and Trade Show this week, be sure to stop by our booth! 7 Generation Games will be booth #529. We can chat about the work we're doing and will most likely ask if you recommend a place to visit. While we are no strangers to the NIEA Convention and Trade Show, it will be our first time in Oklahoma City. So we're excited about that!
Another thing we're looking forward to is our presentation while at the convention. If you'll be there, check out our presentation "Engaging Students Around Indigenous Language and Culture through Video Games" on Friday, October 7, 2022. Full presentation details below.
We look forward to seeing you there!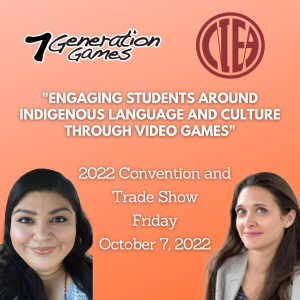 Presentation Information
Presentation: "Engaging Students Around Indigenous Language and Culture through Video Games"
Presenters: Maria Burns Ortiz and Diana Sanchez
Date: Friday, October 7, 2022
Time: Workshop Session D from 8:00 am – 9:15 am CDT