AnnMaria, the president and founder of 7 Generation Games, visited Tate Topa Tribal School this week to hear students' suggestions for characters, educational activities, and games. In short, we wanted to know, "How can we make our games even better?"
Kids had a lot of great ideas. The 7 Generation Games team chose our favorite ideas, and winners will get prizes.
The meetings with the fourth- through -sixth graders at Tate Topa Tribal School are part of our ongoing efforts to make the best games possible. In November, AnnMaria started a software design program with New Earth School. As students are the primary players of our games, they bring unique perspectives to the table. "The feedback we get from students often includes original ideas we had not considered," AnnMaria wrote in a recent post on the project.
7 Generation Games values students' voices, and we believe that it is important to include their ideas in our work. Assessing our games and suggesting new game ideas are also beneficial for the students because they get to learn math and history as well use their imaginations to think artistically while doing so.
Since the students at Tate Topa Tribal School offered so many innovative and creative suggestions, it was hard to choose favorites. Here are some that stood out:
A Navajo Game with Navajo Dress
One of our goals is to teach the history, culture, and traditions of Native American peoples, so we loved Lanae's detailed description of a Navajo game. She suggested that we "make a Navajo game where you make a house on the side of the rock, collect mud and water to make the house, find clay and pottery, make a river to collect water and fish, make adobe houses, find corn to make tortillas, and make rock rolling pins to roll out corn."
For character design ideas, Lanae drew a male character and a female character dressed complete with recommended hairstyles, outfits and names:
Another student, Myron, also requested more Native American dress options for characters. He said, "add something where we can wear animal fur to hide in grass." We think that fur would be a great addition to our character's cultural attire!

A Pow Wow with, Of Course, Drums
Two other students thought of more ways to incorporate Native American culture into our games. One student suggested that we "should have a pow wow" and another asked for "something involved with the drum," since that student participates in a Native American drum group himself. We thought that their two ideas would complement each other nicely in the same game. A pow wow is a great activity idea because it is both educational and fun, and could definitely enhance some of our scenes. We do have pow wow music in Spirit Lake – which we added based on previous student feedback, but we can certainly do more!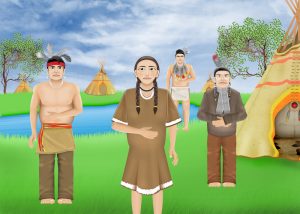 Customization
Three students suggested that we add new customization features to our games to allow our players to have more opportunities for creativity. One said that you should be able to "make your character." Another student, Myron, felt that a way to enhance our games would be to "add more materials so you can craft weapons or other things like food." Alex requested that players be able to "create [their] own land." He drew a sketch of what his own land might look like:
We loved the innovation in these creative customization features!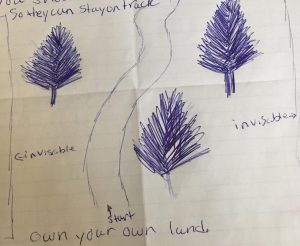 Notice how well Myron paid attention to AnnMaria's discussion on game design, even labeling the invisible barriers that keep players from falling off the edge of the virtual world.
Enhancing the Nature Elements
Since nature plays a key role in the look and storylines of our games, we felt that we could definitely incorporate Atom's idea to "add more than deer, like buffalo, elk, bears, turtle, eagles, dogs, cats, and fish." Atom even invented a game that includes all of his requested animals where "animals come toward you, but you can't move, so you stand there and see how long you can survive." Besides giving us ideas for more animals, he thought of more ways to enhance the land by having "the water reflect the sunlight so it looks cool" and using the sun to show a change from day to night. (There's a great example of that in Fish Lake where you have to collect the berries before the sun sets.)  Below is one example of a nature scene in our games that we think Atom's ideas would make a great addition to!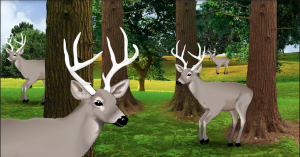 We want to give a special thanks to all the bright and amazing students at Tate Topa Tribal School for their wonderful ideas!