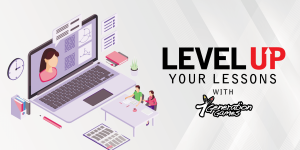 Level up your lessons this fall! Click the image above or the registration link below to register for our webinar.
The 2020-2021 school year is right around the corner and with it comes uncertainty. Regardless of whether your kids or students are returning to the classroom, continuing with distance learning, homeschooling, or thinking about homeschooling for the first time, we want to help in preparation for the fall school year. With so much going on around us regarding education, we want to help you with an aspect of it that you shouldn't have to worry about – your lessons.
Join us for a webinar focused on using our educational software, wherever this coming school year takes us. Receive ideas, insights and ready-to-implement lesson plans on effectively using 7 Generation Games in the classroom, at home, and in-between. Drawings will be held for a 7 Generation Games classroom license and a $25 Amazon gift card each session, with grand prize drawings for a school license (with virtual professional development), a $100 Amazon gift card and an Android tablet at the end. The link to register and the agenda details are below.
Level Up Your Lessons with 7 Generation Games
Tuesday, August 4, 2020
12 PM to 3 PM Central Time
AGENDA:
Times shown are in Central Time.
| | | |
| --- | --- | --- |
| 12:00 – 12:15 | Introduction: The need for accessible, inclusive and applicable educational software | Annette Mennem, Native American Center Director, Minot State University |
| 12:15 – 1 pm | Using educational software for teaching at school, at home, two days a week or while juggling riding a unicycle | AnnMaria DeMars, President of 7 Generation Games and Professor at National University |
| 1:00 – 1:15 | Networking break! Game demos. End of Session Drawing. | – |
| 1:15 – 1:30 | Exploring (free) teacher resources from 7 Generation Games | Christy Hanson, former middle school teacher and curriculum writer at 7 Generation Games |
| 1:30 – 1:45 | Make Math Fun: Getting students to actually do their math work | James Wall, Director of educational partnerships at 7 Generation Games |
| 1:45 – 2:00 | Parental Power Ups: Quick tips and tricks for helping parents help their learners at home | Maria Burns Ortiz, CEO and Creative Director of 7 Generation Games |
| 2:00 – 2:15 | Networking break! Game demos. End of Session Drawing | – |
| 2:15- 2:30 | Virtual-world learning in your real-world curriculum: Integrating educational games into standards based lesson plans | Diana Sanchez, former early childhood educator and project manager at 7 Generation Games |
| 2:30 – 2:50 | Game Design as a Framework with 7 Generation Games | Maria Burns Ortiz, CEO and Creative Director of 7 Generation Games |
| 2:50 – 3:00 | Closing, Grand Prize Drawings | Winners must be present to win. |