In January, you asked us to make Making Camp available for Android phones, so we did. Recently, we have been getting requests to make Making Camp available as a Chromebook app, so we also did that. Thanks to our awesome software developers, Adekola and Gonzalo, you can now get Making Camp as a Chromebook app from the play store. We wanted to make the game available in time for summer vacation because, parents, we know your struggle of trying to find new ways to entertain your children while they're home from school that isn't a waste of time. In Making Camp, students practice their multiplication, division and problem solving skills while building a virtual wigwam and playing fun games. Additionally, players learn Native American history. If that isn't enough reason to play Making Camp, it's also Adekola's favorite 7 Generation game.
While you can play Making Camp on your Chromebook through the web as well, we recommend getting it as an app because it runs better. In fact, you don't need a great internet connection to play it. As long as you have internet to log into the game, you can continue to play even if your connection drops. At 7 Generation Games, it's important for us to create games that all students can play, whether they have access to a good internet connection or not. Making Camp is also completely free-no 30 day trial catch or anything. 
To get Making Camp for your Chromebook simply search "Making Camp free" on the play store.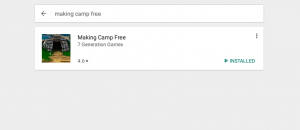 You can also click the "Download from Google Play Store" link on the Making Camp page of our website.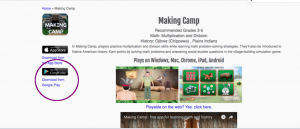 Making Camp is also available on the App Store. Play it today.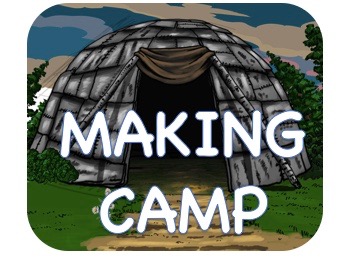 Speak Spanish? Or are you looking to build your Spanish skills? Try Making Camp: Bilingual. Available on the web, the App Store or Google Play.